Ohio ophthamological surgeons, Dr. John Pajka and Dr. Brian Stahl, and their team of 7 returned to Tarija, Bolivia on November 12-19th, 2011 for their 4th surgical mission with Esperança.

There were hundreds of potential patients waiting on the first day. You could feel a sense of urgency and desperation as each individual hoped that they would be selected for surgery. Every day, more would arrive after days of traveling from rural villages to see if there was a chance to receive this life-changing operation.
In just 5 days, Dr. Pajka and Dr. Stahl operated on 152 individuals – about 30 patients each day, and provided more than 450 consultations. With each surgery costing the average Bolivian $2,000-$3,000 dollars, an amount that many don't see in a lifetime, it was considered a miracle to be given the gift of sight.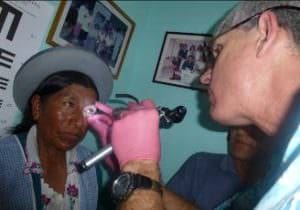 The most transformational moment came the day after surgery, when their bandages were removed from their eyes, and they were able to see clearly. Tears of joy and celebration were abundant during the week of this surgical mission! Thank you Dr. Pajka, Dr. Stahl, and their amazing team for traveling so far to change the lives of so many.