Two years ago, Lorena's life changed forever.
She was at her home in Guayaquil, Ecuador, playing with her four-year-old son, David, when their house caught fire.  Luckily, Lorena and David were able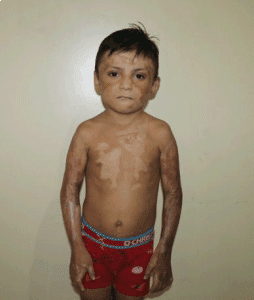 to escape with their lives…but not before they both suffered third- and forth-degree burns.
Their tragedy didn't end there. Lorena's husband abandoned them after the fire.
She was forced to move in with her sister who supports her and David while they have no source of income. But Lorena's concerns were elsewhere… David was having difficulty opening and closing his hands due to the damage left from his burns. His tendons were retracting and tightening, giving him limited mobility.
"I went to so many places to receive help for my son, but no one provided the service he needed," Lorena shared of her desperation.
When she learned that the Hospital León Becerra would be hosting Esperança's surgical hand mission, she immediately took David in to be examined. David was one of over 100 people pre-screened by local doctors in the hopes of being operated on during Esperança's first partnership with The Touching Hands Project.
Dr. Anthony Smith, an Esperança Board member and surgeon at Mayo Clinic, led the team and buckled down for a long week of surgery.  The first day was spent creating the surgical schedule for the week, which started with meeting patients face to face.
Lorena and David were told to come back on the first day of the mission. They met with Dr. Smith and found out that David would be operated on the very next day!
The surgery consisted of a tendon release in David's right hand.
Everything went perfectly.
Lorena was ecstatic upon receiving the news of the successful surgery. She finally had the help she had been looking for the past two years.
"I hope that after this surgery my son can play and have a normal life. I am grateful for all the staff, doctors, and volunteers at Hospital León Becerra and Esperança for the care he received."