In March of 2021 Lorena was at the end of her rope… for 7 years she had lived with diabetes, but speaking limited English had received no support as to how to manage her condition. She gained weight, felt fatigued and was at the mercy of her fluctuating blood sugar levels. Then came the COVID-19 pandemic and the situation worsened. Loreta lost her job and her health plummeted.
Fortunately, not long after, she was introduced to Advance through a contact at her child's school. An Advance Community Health Educator (CHE) was offering the information she had been waiting on for over 7 years – classes on how to manage her diabetes – all in Spanish!
Lorena enrolled in Advance's Diabetes Education and Empowerment Program (DEEP), an evidence-based series that was developed to empower Latinos to make informed decisions about their diagnosis of pre-diabetes or manage their existing diabetes.
Over 8 weeks Lorena learned about healthy eating, medication adherence, blood sugar monitoring, oral health, stress and depression, blood pressure, sodium intake, physical activity, and more, all as it pertained to managing her diabetes and improving her quality of life.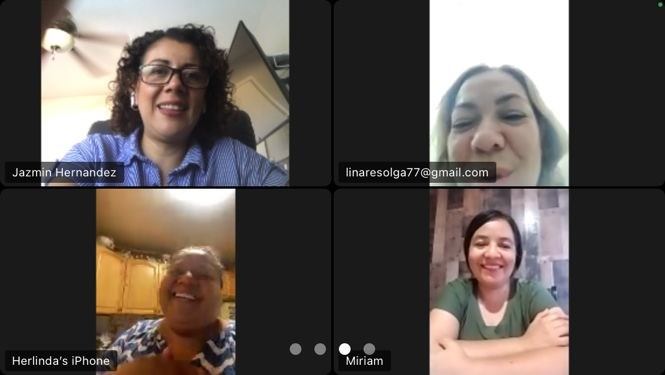 Since her first interaction with Advance in March of 2021, Lorena has graduated from DEEP, Lifestyle Coaching and Su Salud con Sabor Latino (Your Health with a Latin Flavor), a culturally appropriate nutrition program.
Today, Lorena feels confident managing her diabetes. She cooks nutritious meals for herself and her entire family, takes regular measurements of her blood pressure, walks for 45 minutes every day (she's even picked up running) and lost 20 pounds!
Through Advance's ongoing virtual support group chats, Lorena feels confident that she can achieve all her future health goals.
Advance's CHE, Jazmin, had this today, "Lorena looks completely different than when she first came to us in March. Yes, she lost weight, but what she gained is so much more – confidence, energy, and life!"
You can support these programs with a donation eligible for the Arizona State Tax Credit. Learn how here.