Cinthya is a beautiful 13-year-old girl from the community of Ccochua, Apurimac, Peru. Despite the fact that she cannot walk or talk, she is a happy child whose family loves her dearly.
Cinthya's hometown of Ccochua sits at approximately 10,600 feet in the Andes mountains. Ccochua is rich in fertile soil for growing crops, but poor in access to services, such as hospitals and clinics. Because of the difficulty reaching any medical care, Cinthya's mother, Evagelina, gave birth to all four of her children at home. Complications in Cinthya's delivery caused her to be born with cerebral palsy. Cinthya has never been able to walk due to the rigidity of the muscles in her legs. To this day, at the age of 13, Cinthya's mother carries her on her back everywhere they go, including school, with the aid of only a shawl. Since their rural community is only accessible by dirt roads, Cinthya's wheel chair can only go so far. Therefore, it is faster and more efficient for Evagelina to carry Cinthya.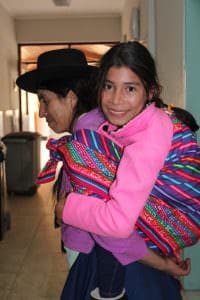 When Cinthya and her parents came to be evaluated by Esperança's orthopedic surgical mission team to see if she could benefit from surgery, her parents wanted one thing: for Cinthya to be able to walk.
The three surgeons on the mission all took part in Cinthya's evaluation. Once they had discussed her case and agreed upon surgery, through an interpreter they made sure Cinthya's parents understood that this surgery would only be one of several that she would need in order to be able to walk. However, they thought that with this first surgery, which consisted of elongating two tendons in each of her legs, Cinthya would be able to stand for the first time on her own. Her parents were ecstatic and asked the team to proceed.
When children have cerebral palsy, they often have difficulty swallowing and clearing their secretions from their throat. Because of this, Cinthya stayed longer in the recovery room than other patients, receiving high quality care and additional supervision from the Esperança doctors and nurses. Cinthya's surgery was successful in that the doctors set out to do what they wanted to do – make it possible for Cinthya to stand and prepare her for additional surgeries. Cinthya stayed in the hospital for a few more days before being discharged with a pair of crutches. It will take time and more surgeries for Cinthya to be able to walk, but Cinthya and her parents have a new-found hope they haven't had for 13 years.
In the next weeks, Cinthya will learn to stand and take her very first steps on her crutches. Our team is looking forward to seeing the whole family next year!
The surgical program is one of the easiest ways to see Esperança's immediate impact in the developing world. And when you consider the expense of a surgical procedure in the U.S. and know that on average for $8,500 we perform 30-40 surgeries you see the impact. CLICK HERE to make a donation today to support the surgical program!