The political situation in Nicaragua has made it difficult, if not impossible, to send Esperança's volunteer surgeons as we have in the past. That being said, the need has not diminished. Countless lives still depend on the surgical intervention we offer for procedures they would never have access to on their own. Despite the difficulties, Esperança could not give up on these people.
The good news is, we recently found a way to continue to bring surgical hope to the people of Nicaragua – all without crossing a border.
Meet Dr. Hurtado.
Dr. Hurtado is a Nicaraguan surgeon, one of many who are partnering with Esperança as part of our new in-country surgical program. Instead of surgeons traveling to Nicaragua from the US, these native surgeons have agreed to volunteer their time to provide free surgical procedures through Esperança's surgical mission coordination – completely circumventing the difficult political climate! It's a good thing, too.
For Doña Raquel Ramírez Orozco, a 39-year-old mother of five in Nicaragua, this solution came just in time.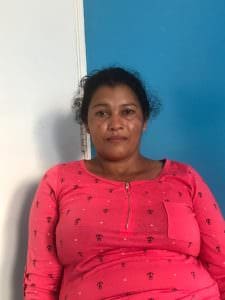 Raquel began noticing a strange bulge forming in her abdomen. She ignored it at first, hoping it would go away on its own. Instead, it continued to grow – so much so that it was soon hard to hide.
"I was scared to go out on the street because I thought they would laugh at me – that at my age I was pregnant!" Says Raquel.
Eventually, the mass started to put pressure on her other organs, causing a host of issues, including pelvic pain and difficulty walking. The situation had become serious and Raquel wasn't sure what to do.
"I postponed going to the doctor because I thought it was nothing serious. Now, I was afraid."
But thanks to Esperança's new program, that fear soon turned into hope. She heard an Esperança sponsored advertisement on the radio for a surgical mission offering free evaluations. It was perfect! Raquel immediately made travel arrangements from her village.
When Raquel arrived, she was evaluated by Dr. Hurtado. An ultrasound revealed the mass to be a myoma, a uterine tumor that consists partly of muscle tissue. It was the largest myoma Dr. Hurtado had ever seen. In fact, to compensate for its size, Raquel's uterus had expanded to that of your average six and-a half-month pregnant woman!
First thing the next morning, Raquel was admitted into surgery. Three hours later, an eight-pound tumor was removed from her body! There were no complications and Raquel left the operating room in good spirits.
"I felt weak, but now I feel very good, and happy to have gotten rid of that uncomfortable weight," she laughs. "I am very grateful! I want to take this opportunity to thank all those involved in these brigades. I hope they can continue to help more people who need them in these places. God bless you all!"
Raquel's surgery was one of the 90 performed over the four days of our second-ever in-country surgical mission. It was a complete success!
"Through the launch of surgical missions in Nicaragua implemented by Nicaraguan surgeons, Esperança is achieving a level of sustainability we've continuously aimed for," shares International Program Director Anna Ortiz. "In Nicaragua, these local surgeons who have worked with Esperança's volunteers in the past have adopted the mission spirit and taken it upon themselves to continue this work."
The fact that Esperança can continue to support Nicaraguans during these difficult times with local physicians is the epitome of sustainability.
Did you know? Esperança sends one medical brigade per week to different Nicaraguan communities, offering free primary, dental, and pediatric care.