Water is life — the phrase echoes through the four communities where Anna Ortiz and Brenda Trejo are conducting water analyses. As interns sponsored by HealthWorks Collaborative, Anna and Brenda are working with Esperança's nonprofit partner AVODEC to add strength to Esperança's water and sanitation efforts in Nicaragua.
Brenda and Anna have been in Nicaragua for the last four weeks, traveling to remote communities to conduct focus groups with the Water and Sanitation Committee members who are residents of their community and are responsible for the installation and management of the water systems. They want to hear what the committee and other community members have to say about the quality of their water. Brenda and Anna expected to have difficulty breaking into the close-knit communities as outsiders but shared that they have been warmly welcomed in each focus group and that attendance has far exceeded expectations because AVODEC is a such a strong component of the community. "Having a strong community partner makes all the difference", Anna shared.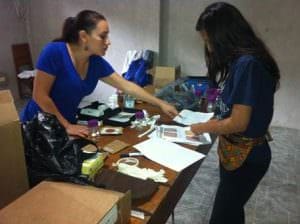 Brenda is passionate about global environmental health and especially passionate about reducing human exposure to contaminated drinking water; she is pursuing a Master's in Public Health at George Washington University. Brenda is conducting water quality analyses to determine if there are hazardous elements in the drinking water in the villages that have built water systems, thanks to your support of Esperança! She will check for pollutants like metals and bacteria and report back to community members to help ensure the safest practices of treating drinking water are in place and to develop health education campaigns for community members to teach to other villages.
Anna has been dedicated to international relief efforts through her service in the Peace Corps and in her two and a half years serving as Surgical Program Coordinator of Esperança. Anna left Esperança to pursue her Master's in Public Health at University of Arizona.
Through her understanding of the importance of the work that Esperança does for vulnerable communities, she came back to intern with us and will be developing an evaluation framework for water projects. She will provide a measuring tool to use for every water system Esperança's builds. This tool will help Esperança and AVODEC know what works and what needs improvement.  It will help us measure important indicators such as trends in water-borne illnesses amongst children and adults, whether residents are satisfied with the water systems, the quality of the water and its distribution.  The answers to these questions will help us build even better water systems in the future.
Esperança eagerly awaits Anna and Brenda's research results to start making improvements in the water systems and in the lives of community members by next January, which is when construction of new water systems will commence.  Thank you Anna and Brenda, HealthWorks Collaborative and AVODEC for making this important research happen!