On Thursday March 1, 2012 friends and family of the Tupper family, past staff and supporters of Esperança gathered in the courtyard of Esperança for a dedication of Esperança headquarters to Esperança founders and brothers, Father Luke and Jerry Tupper.
A plaque honoring the service of both men was unveiled by widow of Jerry Tupper, Barbara. It was recognized and agreed upon by all that Barbara's sacrifice was instrumental in the launch and success of Esperança. Jerry's efforts to build a firm foundation for the organization were only possible with the unwavering support from Barbara.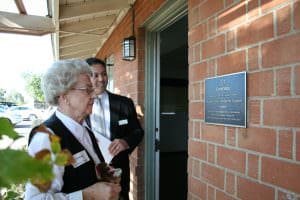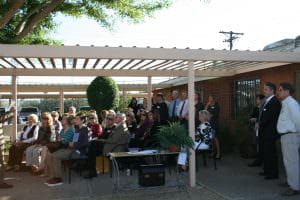 The celebration included talks from former Executive Directors, past volunteers and family members. Sue Johnson, Jerry's daughter spoke of the passion she saw in her uncle and father to help the sick. Bill Dolan, Program Director from 1987 to 1994 told of Esperança's major contribution to eradicating Polio in Brazil with its extensive vaccination campaign in the 1970s.
After 42 years, Esperança continues to bring hope, provide health and transform communities globally. We are grateful to the Tupper Family for creating this wonderful force for good in the world.