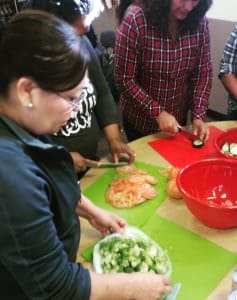 Serves 8
Ingredients:
• 1 piece of fresh cauliflower, chopped into small pieces
• Salt and pepper to taste
• 4 tomatoes, finely chopped
• 2 cucumbers, finely chopped
• 1 onion (white or purple) medium, finely chopped
• 1 bunch cilantro, finely chopped
• 2 peppers (jalapeno or serrano), finely chopped
• 1 cup lemon juice
Instructions:
*Rinse all vegetables before you chop them. In a large pot, boil water over high heat.
• Add cauliflower and a teaspoon of salt
• Cook for about 5 minutes or until cauliflower stems look transparent
• In a colander, drain the cauliflower and rinse with cold water to prevent further cooking
•Finely chop cauliflower
• In a large saucepan combine the cauliflower, tomatoes, onions, chilies, cilantro and lemon juice. Season with salt and ground black pepper to taste.
* If you like, ceviche can be refrigerated for two hours, to mix all flavors.
TIPS:
• To serve, accompany with toasted or baked chips and diced avocado.
• The finer you chop the cauliflower the less time it takes to absorb the lemon juice.