The community of Rio Grande is 27 miles from the city of Jinotega, Nicaragua. The population here mainly consists of hardworking coffee farmers. However, the use of chemical fertilizers in the soil and on the plants has left the local river (and their only water source) contaminated.  This is the only water source in the area, leaving residents no choice but to drink and bathe in the polluted river.
Guadalupe Estrada Castro, 54, and her family are some of the residents of the Rio Grande community.  She fetches the water for her family to drink and use in cooking from a well connected to the river. The entire family also uses this well to bathe.
"We use the water from a well, which is at the foot of a hill. It was difficult to climb with two gallons of water because my knees would hurt. When it rains that tremendous climb becomes smooth and is dangerous we could even break our legs. When I got home I wouldn't like to get up and wash clothes, my children helped me because I couldn't stand."

This well is where Guadalupe and her children used to collect drinking water and bathe.
For these reasons, Rio Grande became the site for one of Esperança's newest water projects. Plans were made and community members volunteered their time and labor to lay pipe. Guadalupe even helped build the storage tank and filtration system!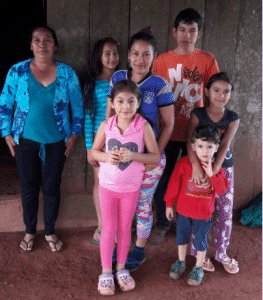 The completed water project benefits approximately 60 families (320 people). Guadalupe no longer has to spend her days hauling water back and forth between the well and her home; there is a water spicket a few feet from her front door! She doesn't worry that her children may fall ill again; their water is now fresh and clean.
"Now that the project came to the community, I feel better in the conditions. I no longer have to retrieve water. It is my job to take care of my family, and it hurt me to know they were drinking water that could make them sick."
Support from partners like you, and with the hard work put in from our Nicaraguan partner, AVODEC, transforming communities like Rio Grande is not only possible, but an Esperança standard.