My family is made up of my husband, Imar Gutierrez, 32, my daughter Abigail Melina, 14, and my son Juan Emanuel, 9.
We live and work in the community of San Mateo, a place located in the Cercado province of the department of Tarija in Bolivia; here the land is fertile, there is constant irrigation thanks to the filter chambers, in this community we are mainly engaged in the production of vegetables.
For me the days are almost all the same. I almost always get up between five and six in the morning. When there is a lot of work in the field, I get up at four in the morning. I wash my face, make breakfast for my family and we have breakfast together, then I clean my house a little before starting the day. At eight in the morning I go to the greenhouse. In the greenhouse I must store, propagate, and water depending on what is needed. I work in the greenhouse until eleven in the morning because I must go back to my house to cook lunch for my family and for the laborer that helps us with the fieldwork.
My husband works by developing machines for agricultural production. The machines my husband creates help us a lot by making the work not like traditional work, but lighter. Before we used the machines, the work was more difficult, I had blisters on my hands, headaches, back pain, but now it is much better.
At noon we all get together for lunch, then my daughter and I wash the dishes and rest a little until two in the afternoon. At that time, I go back to the greenhouse to continue the work of storing, propagating, watering, depending on what I was doing in the morning.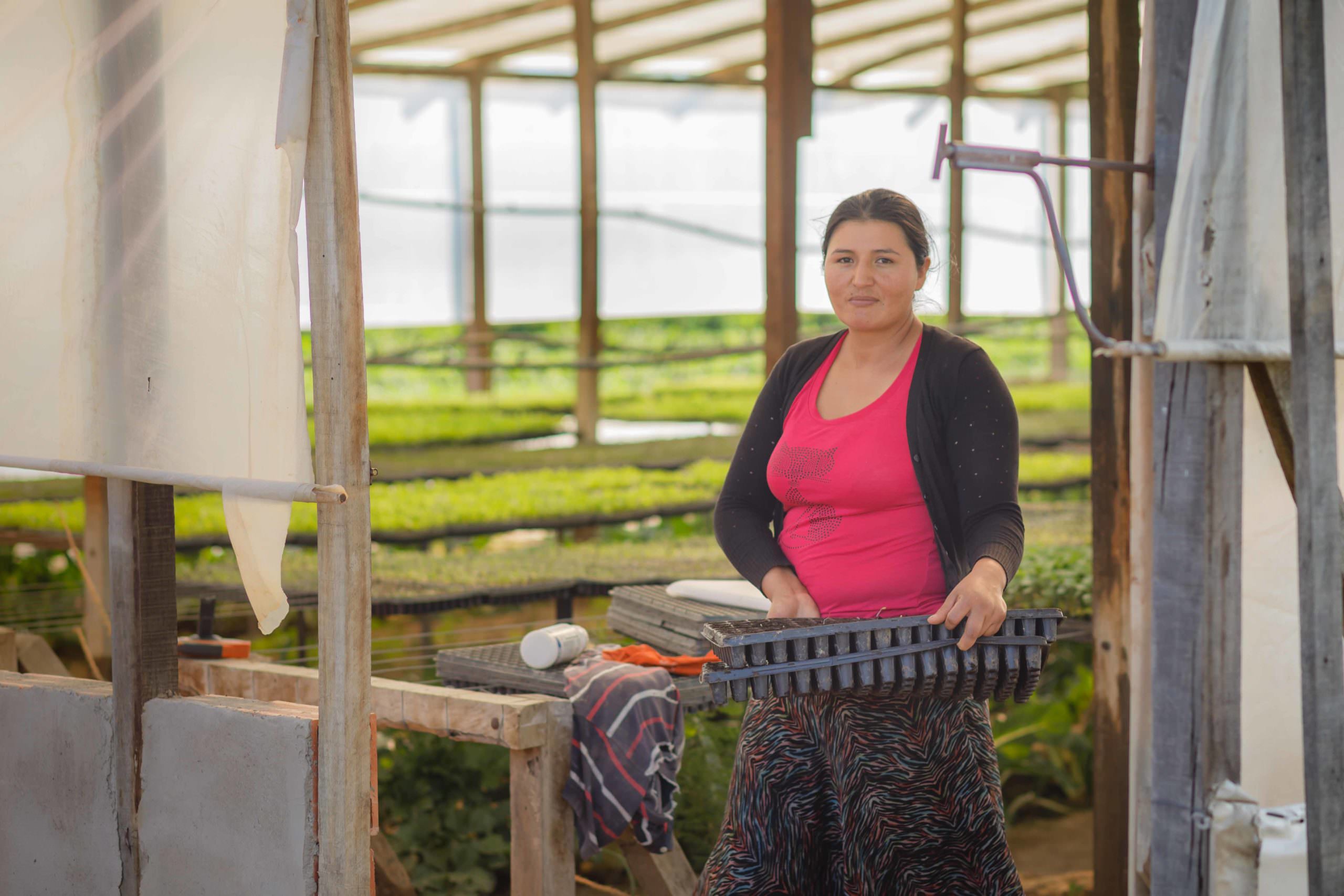 When I'm working during the day, I really like to concentrate. I love working in the nursery. You could say it's not a stressful job, because it's light and I'm under shade. When I must work in the field I do it early before the sun gets stronger and I take good care of myself in the sun.
These are the days I cherish, for 15 days of every two months, I am harvesting my farming products: lettuce, scarlet lettuce, broccoli and cauliflower. And these days are very exhausting for me. I usually only sleep one hour at night because I must get up to prepare everything and take to the farmer's market in the city of Tarija where I sell my vegetables to the resellers.
I must be at the market at twelve-thirty at night lined up to go in. The market opens at one o'clock in the morning and if there's good sales I finish everything by three or four in the morning. When sales aren't good, I end at seven or eight in the morning and come home to do all my housework, field work and work in the greenhouse.
It is very tiring work, many times I feel sleepy in the market. I spend fifteen days in a row like this, then I rest a month, until there is new harvest and I must repeat the trips to the market. Those days I feel like I have less energy to give to my  other tasks, so I cook earlier and we all have lunch a little earlier than normal, so after cleaning everything I can rest a little and replenish some of the sleep and recover. But again, at two o'clock in the afternoon I return to the greenhouse to continue working until four o'clock in the afternoon, then I start harvesting my products to bring to the market until six or six thirty in the afternoon.
The days are very exhausting in the field, at least for me, because I have other tasks in the house, but for now my daughter helps me, she is my right hand. I am happy and proud to have my little girl, she is very polite and respectful, from a very young age she was very responsible, helps me in the house, in the field, in the greenhouse.
When I'm sick she looks for medication, she helps me with my little boy, despite being only fourteen, for me she acts like an adult woman, I know I can always trust her. Together with my husband we teach them to earn the "bread of every day".
At six o'clock in the afternoon I return home, prepare hot tea and dinner for my family and the worker who accompanies us. My family arrives at seven o'clock at night, we eat together, we spend some time chatting, laughing, sometimes we see something on TV or on the computer until ten o'clock at night, finally after an exhausting day I lie in my bed to rest.
COVID-19 Experience
At the beginning of the pandemic I was very afraid, I panicked even though I am not a person who scares easily. I listened to the news on the radio and couldn't sleep for a week. I could not go to the market to sell and I locked myself with my family in my house, but over time I was less and less scared and resumed my activities little by little.
These months of the pandemic have been complicated. It affected me a lot economically; many people started producing vegetables because at first it was the only thing that could be sold. Having so many vegetables and so few buyers dropped the price a lot, now vegetables are very cheap. God willing, they will soon return to normal.
I remember that before the pandemic, I had higher income. There was more sale of products and more orders from our nurseries. My husband and I had just recently set up a small bookstore in front of the community school.
At the time, my days began at five in the morning. I would get up and prepare breakfast quickly so my family and I could go to the bookstore, which we would tend to until eight-thirty in the morning. Later, I had to go home to work an hour and a half in the nursery and the field in addition to cooking lunch for everyone. In the evenings, I would complete the nursery work, field work, and the housework.
Today, my family's economy has declined, or I could say it slowed down, we don't do the things we used to do before. During these months it was difficult, everything is an expense, money is needed for anything. What little we had saved I had to invest in buying food.
The pandemic has affected us a lot, not only us, but many families who are going through difficult times. I think we must get used to living this way, because with the pandemic it's hard to say if it's going to be over soon. We just must take care of ourselves, take care of our families, use masks, disinfect, and avoid going to places where there are a lot of people.
In my case, even though the pandemic affected our family financially, I can say that it was favorable. Before, I did not stop at home because I had to tend to the bookstore, everyone was in their activities, my husband in his workshop and the field, and my little children at school and busy with their tasks. Before, I had to do everything alone in the nursery, buying seeds, storing, propagating, watering, cooking, cleaning… If I cleaned the house, it was clean. If I didn't, no one else did. But now that the school year has closed, my daughter helps me with cleaning, cooking, washing clothes; my little boy helps me in the nursery, my husband spends more time with us and helps us in everything he can. It's more relaxing for me; now my family and I are closer, it's nicer, now we eat as a family, we sit down to chat, all working together in the greenhouse or in the field. We try not to go out if it is not necessary, to take all the precautions, to wash our hands, to disinfect ourselves, we make homemade syrups, we boil some plants like eucalyptus, so that it purifies the house. Thank God we have not gotten sick. So, for those reasons the pandemic has not been so bad for me. The pandemic affected my family's economy, but it also brought my family closer together.
I think what counts is that my family is well, the rest is secondary. For example, one is so focused other things, but if we don't have the family together, you don't enjoy it. What good is so much money, if we don't have our families, if we don't have the people you love? Money doesn't make you happy. I don't value money that much; I prefer to have my family together. If I achieve a goal it is thanks to the support of my family. What makes us happy is the unity, tranquility and peace you can have in your family, I can eat a simple "stew", but if there is happiness at the table, it is worth more than feasting on a barbecue in the middle of an argument.
Now, I can say that we are starting again, little by little, even despite the circumstances of the weather, the rains and hail storms that affect our production and our plants; I can say that, together with my family we are going to succeed.