Changing perspectives: Dover doctors provide surgeries in Nicaragua
Apr 14th, 2018 · by Mike Finney · Delaware State News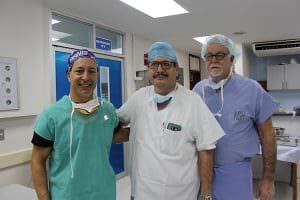 Dr. Brandt Feuerstein (left) embarked on his second trip to provide surgeries for the less fortunate in Nicaragua in March. He was joined by a medical team of six others from Dover, including semi-retired Dr. John Glenn (right). Nicaraguan surgeon Dr. Baltodano is in the middle. (Submitted photos)
DOVER — Traveling abroad to offer up his surgical skills to the less fortunate is now firmly entrenched in Dr. Brandt Feuerstein's blood.
The six other members of a medical team that traveled from Dover to Masaya, Nicaragua, in late March got a first-hand look at why Dr. Feuerstein has developed such a passion for what has become a personal mission of mercy.  In his latest venture to Nicaragua, Dr. Feuerstein was joined by Dr. Robert Hartmann, an obstetrician-gynecologist, anesthesiologist Dr. Glenn Madara and Dr. John Glenn, a semi-retired surgeon. Surgical tech Olga Mendez, registered nurse Tina Sykes and volunteer Devon Madara, the doctor's son, also made the trip.  The medical team raised $5,000 on a Go Fund Me web page to make the journey. They received generous donations from the medical staff at Kent General and from the Delaware Surgery Center.
Dr. Hartmann, much like Dr. Feuerstein following his first trip to Nicaragua in July 2017, was left with a lasting impact after getting the opportunity to interact with a different culture and work in a much different environment.
"Despite being content and everything being good in my life, I always felt like I wanted to give back and going on this mission trip would be a good thing to do to give back," Dr. Hartmann said.
"Never in my wildest dreams did I expect to receive way more than I gave, and that this would touch my life in such a profound way that my perspective as a doctor and as a person in this world is changed forever."
While Dr. Feuerstein's first trip with Esperanca — a nonprofit charity organization out of Phoenix, Arizona — was to La Dalia, Nicaragua, a remote and impoverished area, a last-minute switch had his team traveling to Masaya, the third most populous city in Nicaragua, in March.
"We were planning on going back to La Dalia, where we were, but within weeks of the trip there was a change in venue, so we actually went to the city of Masaya instead of a rural area," said Dr. Feuerstein.
"We worked in the public hospital there and we were the first international medical mission to work in this hospital.
"They had never had a team before from outside the country and they were very enthusiastic about having us there. They were very welcoming and there was a big need. There was a big backlog of patients."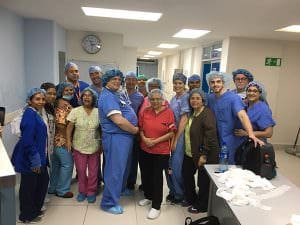 The medical team from Dover along with some of the local physicians they worked alongside in Masaya, Nicaragua.
The surgeon admitted it was a completely different experience than his last trip, where dogs could sometimes be found meandering through the hospital.
"It was different in terms of getting a little bit more of a feel for the country and the people," Dr. Feuerstein said. "We were in a very populous city. We lived in the city where we worked. We were able to walk in the city, eat in the city and stay in the city.
"The interaction with this hospital was much more enthusiastic. We met a lot more of the doctors. We met the administrators and the director of the hospital."
And they worked — tirelessly.
Getting the job done
The team of medical professionals from Dover arrived in Nicaragua on a Saturday, had a huge clinic on Sunday where they met their patients and then operated, many times in 12-hour shifts, from Monday through Friday.  By the time they were finished, Dr. Hartmann had done 24 operations, a variety of gynecologic procedures including hysterectomies, and the general surgery portion of the team, Dr. Feuerstein and Dr. Glenn, did 22 gall bladder surgeries and three hernias.
Dr. Feuerstein said that since he had made the trip before, he was a little bit better prepared for what he needed to bring with him and what to expect.
"I brought a lot more equipment hoping that it would be a little bit easier, but they just don't have replacement parts and they don't have technicians who can troubleshoot your equipment," he said. "To do laparoscopy, there's a lot of little details that have to be followed.
"We were lucky. We were able to do most of the general cases laparoscopically and the ones that we wanted to do, gynecological cases, we were able to do that as well."
This time around, Dr. Feuerstein and his team immersed themselves more into the culture, which he said made the trip even more meaningful.
"The collaboration with the local physicians was really gratifying this time," he said. "They were very interested in what we were doing and they wanted to participate. One Nicaraguan doctor actually got to do a laparoscopic tubal sterilization, which is something he'd never done before."
Working in the city where they stayed in, the medical team from Dover got to experience much more of the Latin American culture and had an opportunity to put their hands on the pulse of the Nicaraguan people.
"It was also Holy Week, which was a very interesting time to be there," Dr. Feuerstein said. "It's a very religious city and there were a lot of religious festivities going on in the street and there was a very lively atmosphere in the city in general.
"The last time (in La Dalia) it was a very positive experience, but we were in a very remote area, kind of insulated."
Dr. Feuerstein and Dr. Glenn stayed three extra days and traveled around the country a little bit. They were able to get a better feel for the countryside, the people, the different cities and the food.  All the knowledge that Dr. Feuerstein can gain is important. After all, he is already planning his third trip to Nicaragua in either January or March of next year.
Overwhelming gratitude
For Dr. Hartmann, seeing the conditions that many of the Nicaraguan patients lived in, yet also experiencing their genuine gratitude for the services they were being provided, struck a chord deep within himself.  One particular moment will stay with him forever.
"I am not usually very nervous before performing surgery in the states, usually I am very focused prior to surgery," Dr. Hartmann said. "That Sunday I found myself nervous. I did not know what to expect in the operating room, I did not know what instrumentation I would have to perform the procedures.
"Because of my anxiety I went to the church in Masaya and prayed for the Lord to guide me and allow me to help these people to the very best of my ability."
Eventually, he was able to relax and he performed 24 surgeries over five days.
"Despite working long days and doing many surgeries each day, I woke up with an energy and excitement to do more because of the patients," he said.
Dr. Feuerstein echoed Dr. Hartmann in lauding one facet of the trip. From his first trip to Nicaragua in 2017 to the most recent one in March, Dr. Feuerstein said there is one thing that is always the most gratifying when it comes to working in the country — the people.  He said getting the chance to make follow-up rounds with his patients the day after they had their surgeries was "extremely gratifying."
"Many of these patients (had it been the United States) would have gone home the same day (of the surgery), but what happens is a lot of the patients travel great distances and don't have any reliable medical follow-up where they came from, so the hospital feels the best thing for them is to stay overnight," Dr. Feuerstein said.
"That turned out to be a very gratifying experience because each patient you got see how they were doing — and they all did extremely well — and they were also given a chance to express how they felt about the care they received … which was almost overwhelming, their level of gratitude."
Dr. Hartmann and the rest of the team from Dover were excited that they got the chance to receive first-hand the enthusiasm and kindness of the patients, as well.
For Dr. Hartmann, it was a profound experience.
"It has been three weeks since I have left Masaya, I reflect on my trip every day," Dr. Hartmann said. "I think about the people in town, the church, the hospital and operating room staff.
"The kindness and gratitude I was shown there exists infrequently in the states. In the states I now see people who have everything that want more. There, I saw people with very little but were content with what they had."
Dr. Hartmann added, "I also learned that he Lord has blessed me with many amazing skills as a surgeon and until I left Masaya I had never felt that I used those skills to glorify him until now.
"My experience is burnt into my heart. If it is his will my plan is to do more mission trips to use the great gifts I have been given."
Dr. Feuerstein said he'd be more than happy to have him join him again on his next big adventure.
"I plan on running at least one trip to Nicaragua every year," he said. "I guess you could say it's in my blood now."
Delaware State News staff writer Mike Finney can be reached at mfinney@newszap.com.
Find the original article here: https://delawarestatenews.net/news/changing-perspectives-dover-medical-team-travels-to-nicaragua/