In July of 2018, Esperança began sending medical brigades from our office in Nicaragua to serve rural communities in need of primary care. Due to the political climate in the country, Esperança's surgical missions were temporarily put on hold. However, this new brigade program allows us to serve a completely new population – that whom are unable to travel to meet our surgical teams where they operate in the nearest city.
3-4 times per month, our Nicaraguan team, made up of a Doctor, Nurse, and Dentist, take day trips to rural communities and provide free health services.  Our team sets up in a makeshift clinic inside a church or community building to start screening patients. They can provide teeth cleanings, refer patients to specialists, and prescribe medications.  On average, the team sees about 30 community members per day visit.
As of January 2019, Esperança is so excited to announce that a local practicing pediatrician in Jinotega is willing to collaborate to add pediatric services to the Primary Care Brigades. He estimates he will see between 15 and 25 children per trip – that's 60 to 80 children per month! The pediatrician will travel with our Primary Care Brigade and therefore would service the same communities on the same dates.
Based on the past six months of brigades, it costs roughly $30 to see and treat a patient on one of these trips. Just $30 could help a child see the dentist for the first time or provide medication to a diabetic who has never had it. We are so excited to continue transforming lives with our medical brigades!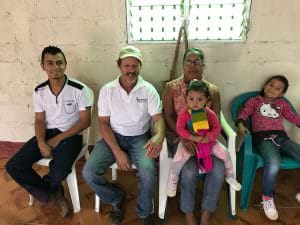 Learn more about our work in Nicaragua.