A Trip Report by Elena Burr
On October 21st, Esperança's first ever Ophthalmology Mission to Peru hit the ground.  One of our few teams from Phoenix (Esperança's home base), this was group's first time travelling with Esperança. To accompany and support the first Ophthalmology team on their trip to Abancay, Esperança staff included Jeri Royce, Anna Ortiz, and myself. There is only one arduous road in and out of Abancay, as the beautiful city lies deep in the "The Eternal Springtime Valley".  So, four hours of winding switchbacks from Cusco, and our team of 12 arrived in the city.
After a quick visit to the Guillermo Diaz Regional Hospital of Abancay that night alongside our partner, CADEP, the team felt confident going into surgery the following day.
The next morning, after a brief meeting with the Hospital Director who shared how thankful he was for our support, we were ready to start screening patients. And the patients were more than ready for us! Over the course of the next five days, from dawn to late into the night, the waiting room for our team was jam-packed with patients- some of whom had traveled from as far as 12 hours away in the hopes of being seen.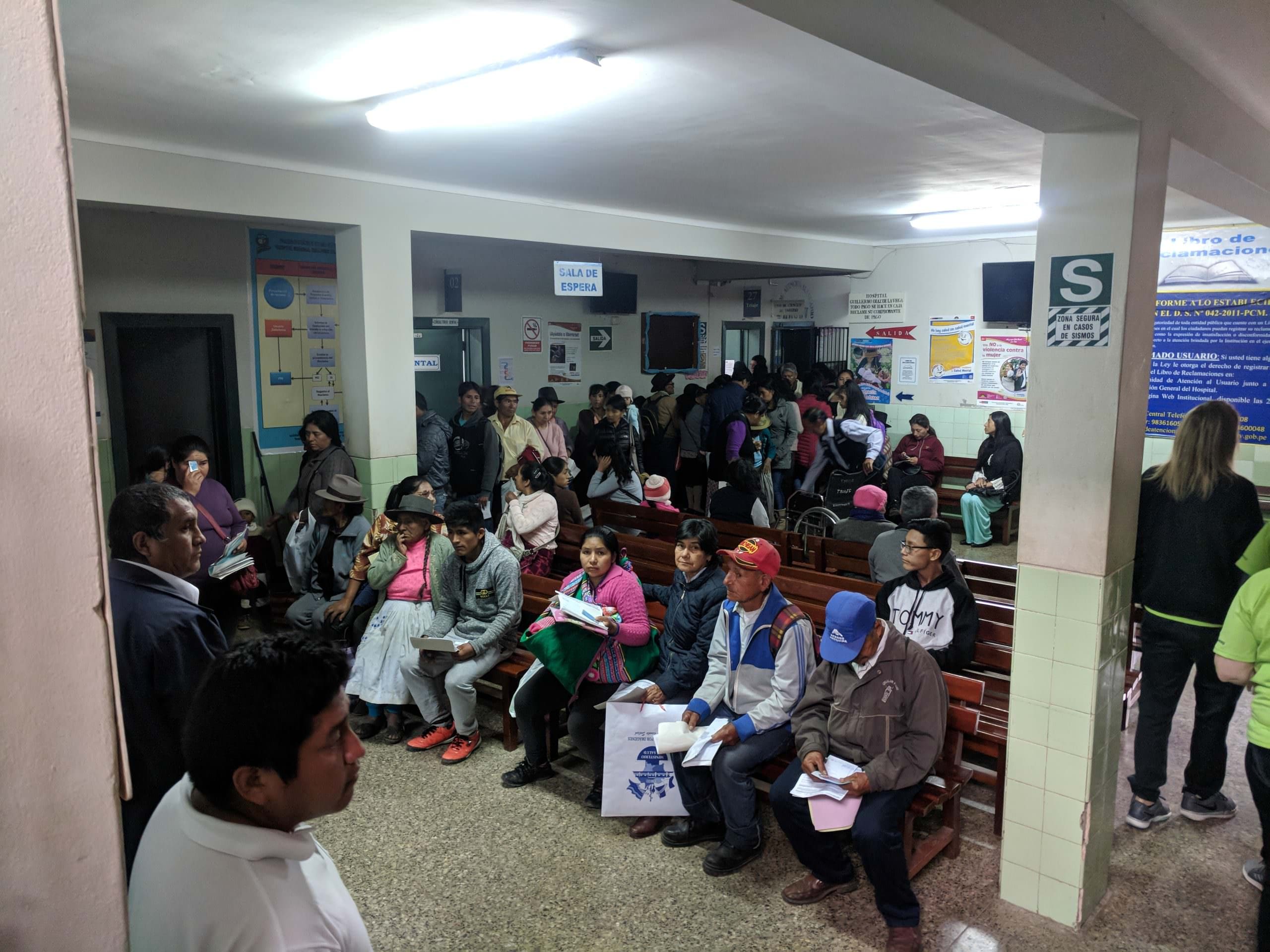 As this was Jeri and I's first mission trip, we filled in where needed. I was stationed in pre-op to assist in escorting patients to the waiting room, across the hospital on the second floor. From there, Jeri organized and prepped patients for surgery.  Anna took on the role of Superwoman; running back and forth between all three stations, translating, and ensuring that everything ran smoothly.
Over the course of the next five days, we witnessed many incredible transformations, none of which stood out to me more than Florentino's.  Florentino and his daughter traveled five hours to the regional hospital in Abancay after hearing through a radio announcement that Esperança would be offering free eye surgeries. He was completely blind in one eye and had a dense, white cataract in the other, making getting around impossible.
He didn't leave the house….didn't do anything without the help of his daughter.
When he first stumbled into pre-op, Florentino clung tightly to the arm of both his daughter and his cane for guidance.
That all changed after a relatively smooth cataract removal procedure. The day after Dr. Brems performed the surgery, Florentino walked right into post-op with no assistance (causing most of the staff to get teary-eyed), with a huge smile on his face. It was a night and day difference for this man who had lost all hope before Esperança. Florentino is just one of the 81 lives that were changed during our five-day venture.
This mission was also unique because we were able to serve participants in some of Esperança's other project areas in Peru. Several people traveled from Rondocan and Chumbivilcas, distant communities where we have agriculture and advocacy programs. Tomas, Esperança's solar panel technician on the Q'ero project also traveled to Abancay to get a cataract removed.
Overall, it was an extremely successful and enlightening week. Anna was not over-exaggerating when she talked about 16 hour days at the hospital! As there is great need in Peru for quality eye surgeons, Esperança hopes to be in the area again soon to continue this important work.
Read more about Esperança's work in Peru HERE
Donate to Esperança's next surgical mission HERE