It is easy to imagine a mother doing anything she could: traveling any distance, facing any threat and paying any price, in order to keep her children safe. What is hard to imagine is a mother working tirelessly only to find that she and her children are still not receiving micronutrients vital to development, disease prevention and well-being. Esperança works every day to build healthy families by laying the foundation for healthy prenatal and maternal care.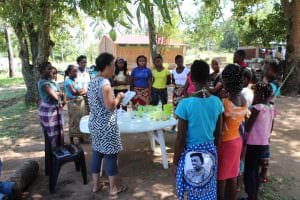 Being undernourished in the womb increases the risk of death in the early months and years of a child's life. "Malnutrition is globally the most important risk factor for illness and death, with hundreds of millions of pregnant women and young children particularly affected" according to an article in the Canadian Medical Association Journal by Olaf Muller and Michael Krawinkel. In order to improve women's nutritional status, Esperança provides food-based solutions accompanied by nutritional education on micronutrients like Folate.

Folate is a water-soluble B vitamin that occurs naturally in food. Folic acid is the synthetic form of folate that is found in supplements and added to fortified foods such as cereals. Folate helps produce and maintain new cells. Folate is needed to make DNA and RNA; the blueprints for cells. This is especially important during periods of rapid cell division and growth such as infancy and pregnancy. If a woman has enough folic acid in her body before she is pregnant, it can help prevent major birth defects of her baby's brain and spine. Women need 400 micrograms of folic acid every day. For folic acid to help prevent major birth defects, a woman needs to start taking it at least one month before she becomes pregnant and while she is pregnant.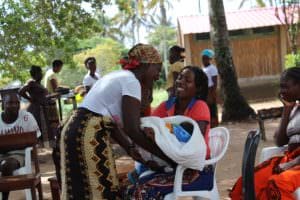 Every woman needs folic acid, whether she's planning to get pregnant or not, for the new cells that the body makes daily. Think: skin, hair, and nails. These – and other parts of the body – make new cells each day!
Leafy green vegetables (e.g., spinach and turnip greens), citrus fruits and juices, and dried beans and peas are all natural sources of folate. Here's a list of the top 10 naturally-occurring plant based folate-rich foods:
Rank Food Folate (mcg)
Brewer's yeast, 1 tablespoon 313
Lentils, 1/2 cup, cooked 180
Edamame, frozen, 1/2 cup 179
Romaine lettuce, 2 cups 152
Pinto beans, 1/2 cup, cooked 147
Okra, 1/2 cup, cooked fr. frozen 134
Black beans, 1/2 cup, cooked 128
Black-eyed peas, 1/2 cup, cooked 120
Spinach, 2 cups, fresh 218
Kidney beans, 1/2 cup, cooked 115

Edamame-Asparagus Salad – yields 6 serving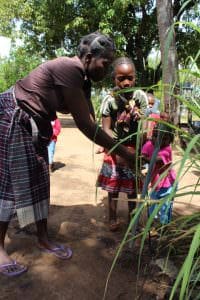 1 lb. medium asparagus, ends discarded
1 (16-oz.) package frozen edamame (green soy beans), defrosted and drained
2 Tbsp. olive oil, divided
¼ lb. arugula (or ½ arugula and ½ watercress)
¼ cup shredded parmesan
2 tsp. balsamic vinegar
Salt and pepper to taste
Cut asparagus stalks into ¼-inch diagonal slices, separating tips. In a wok or large sauté pan, stir-fry asparagus stalks in 1 Tbsp. olive oil over medium heat until slightly browned. Add tips and continue to stir-fry for another 4-5 minutes. Remove from heat and toss with defrosted edamame, salt and pepper. Pile arugula (or arugula and watercress) in a salad bowl and toss with remaining Tbsp. olive oil. Top with asparagus and edamame, and sprinkle with shredded parmesan. Drizzle with balsamic vinegar and serve immediately.