How volunteer work can bring restoration
In March of 2016, Ramón Gallardo was struck by a car while crossing the street, leaving him with a traumatic brain injury (TBI) – a condition that severely impacts physical and cognitive abilities and which forced him to quit the new supervisory role at a Maricopa County hospital where he had just started working.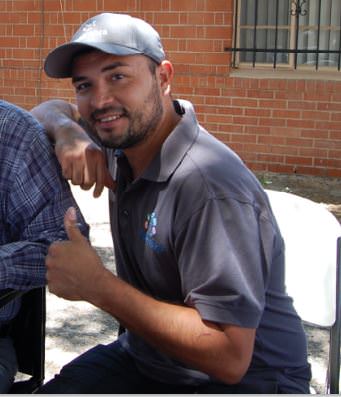 With no income, a loss in functional abilities, and a poor outlook for what the future might bring, Ramón faced a difficult climb to recovery. However, a fully committed heart and mind can do amazing things.
After months of recovery therapy, Ramón began searching for an organization that matched his background where he could begin rebuilding the skills that had been lost because of the accident.
We are grateful that his search landed him here at Esperança. He started working two days per week sorting medical supplies in our warehouse, which eventually led him to helping with our donation intake work and even joining Maria Valenzuela in teaching in our Salud con Sabor Latino (Health with a Latin Flavor) nutrition classes. These classes empower low-income, Latino residents of Maricopa County to overcome language and economic barriers to improve their families' health and reduce chronic disease.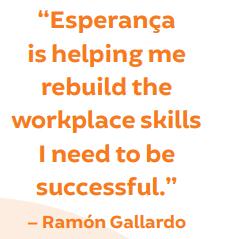 "This organization impacted me in two major ways," says Ramón. "First, it has allowed me to put my volunteer skills to use. Second, as a brain injury survivor, Esperança is helping me rebuild the workplace skills I need to be successful."
For Ramón Gallardo, volunteering at Esperança provides not only an opportunity to improve the lives of people in the Phoenix neighborhood where he grew up – a neighborhood he has a strong passion to serve – but it has also provided an opportunity to restore what otherwise might still be broken.
"I used to compare myself to old, pre-injury Ramón, but now I am confident. I am a new, better Ramón. I never would have had these opportunities without Esperança."