How you helped release Sulay from 22 years of disability
Sulay Camaton was born in Guayaquil, Ecuador with a club foot, a condition where an infant's foot is formed inward, sometimes so severely that the sole of the foot faces sideways or even upward. Tragically, her parents couldn't afford the surgery to correct their daughter's condition.
When Sulay was nine years old, her mother heard about a free orthopedic surgical mission passing Manta, a city four hours away. Hoping for a cure, she got her daughter seen by a doctor. Unfortunately, she found out that Sulay had passed into the age range where it wasn't wise to operate until her foot finished developing.
Discouraged, but not defeated, her parents scrimped and saved so that they could afford the operation when the time came. But it wasn't to be.
An economic crash in Ecuador greatly diminished the family's income, to the point where they needed those savings just to survive. Now 22 years old, it was beginning to look like Sulay would never walk or run normally.
But then Esperança (hope) came to Ecuador.
This year, for the first time ever, Esperança launched a surgical mission to Ecuador.
In 2018, Esperança was approached with the opportunity to embrace a new model for surgical missions- partnering directly with a hospital that requires additional surgical support.
"This unique opportunity to partner directly with a hospital has allowed us to collaborate with local physicians more intimately than before," shared International Program Director, Anna Ortiz.
The local hospital set up a social media campaign to get the word out. Sulay's mother couldn't believe her eyes when she checked Facebook – a free orthopedic surgical mission was coming to the León Becerra Hospital in their town!
After an evaluation by Esperança's volunteer surgeon, Dr. Pedro Castillo, Sulay's surgery was scheduled.
"I am truly grateful for the opportunity they gave my daughter and for the excellent care from all the doctors who were attentive at all times," says Sulay's mother. "It's a miracle!"
Sulay's surgery was a success! On June 17th, the cast came off and Sulay was able to experience normal mobility for the first time in her life.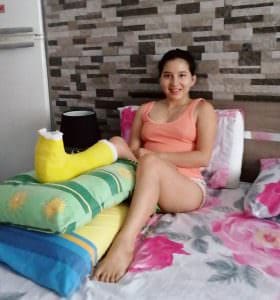 Together we changed the lives of 25 others like Sulay on Esperança's first trip to Ecuador and, with your support, we're looking forward to many more!