When his wife died a year ago, Miguel and his children were devastated. And it would be tough enough to become a widowed father — but Miguel's health was precarious. He was overweight … pre-diabetic … with high cholesterol and high blood pressure. He was going to need heart bypass surgery. During recovery, he would be confined to a wheelchair.
His story could have ended badly … except for your compassion: Your generous giving to Advance gave Miguel — and his children — a whole new chance at life … before he succumbed to his poor health and depression completely.
How did you connect with Miguel? Through our Su Salud con Sabor Latino program — "Your Health, with a Latin Flavor." It's a 12-workshop curriculum designed specifically for the Hispanic community — where health issues are particularly prevalent. SSL empowers children, adults and seniors to change their own lives and improve their own health.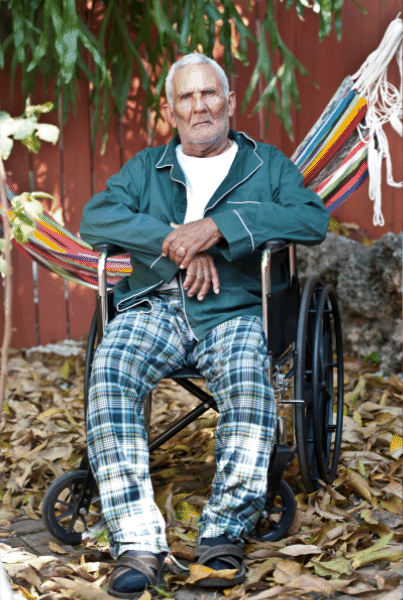 Miguel learned about nutrition, and the value of physical activity … how to interpret food labels, and adequate volumes of water … how to eat "mindfully," with appropriate portion sizes. There were hands-on food preparation opportunities and spotlights on chronic diseases, mental health, oral health, and more.
This program is crucial — because in the Hispanic community, there's a health gap. For example, the Centers for Disease Control reports Hispanics are 50% more likely to die from diabetes; 24% more have high blood pressure; there's 23% more obesity.
To change these statistics, information is key to health and life – and most importantly, information in their native language! That's how your support for Advance, and all our Hispanic community programs, saves lives.
If you saw Miguel today, you wouldn't recognize the man you met at the beginning of the story.
He's lost 15 pounds. His cholesterol and triglyceride numbers have dropped. His glucose levels are in the normal range: he's no longer pre-diabetic. It wasn't a short-term fix. Miguel has made permanent changes to his diet. He's leading an active, healthy lifestyle. He's able to care for his children. "I feel a lot better," he says today, "with more energy." Advance's programs have provided "encouragement and motivation to make changes on my own."
He underwent his bypass surgery — and what happened next? You "helped me stand on my own two feet again," Miguel says. You helped get him out of his wheelchair.
And here's the sweet ending to Miguel's story…. A tree fell in his yard and he decided to chop it up for firewood. Hard work! "I would never have been able to do that, before taking this course," Miguel says.
Then he and his children had an idea: They would plant a new tree in that same spot, in memory of their beloved wife and mother. Now, every time they see that tree, they'll remember her. But it's also a reminder of how you changed Miguel's life … maybe even saved his life … and preserved this family.
Today, Miguel shares his story with others, pointing people in need to our life-changing programs. But it's you keeping the connection open. When someone turns to us, you're the one making sure we're here for them. Donate today to ensure these transformational programs continue for families that need them most.