Flora Zenteno, 35, is a native of Bolivia. She grew up in the Erquis Ceibal community, and her childhood is filled with memories of helping her parents with their vegetable garden.  Flora now lives with her husband and two daughters (6 and 12) in the city of San Lorenzo, population 3,000. She is a teacher in a small primary school with 30 children, but always stayed true to her roots and produces vegetables in a garden at her home.
Flora was motivated to join the Esperança Bolivia Microenterprise Family Farming Project after observing her students come to class nutrient-deficient. She wanted a school garden where children learn to cultivate and eat the vegetables they produced, ensuring they get at least one nutritious meal per day. Flora's dream came true when Esperança supported the building of a garden at her school.
"When I arrived at the Santa Barbara community, I met malnourished children and children from single, working mothers living in poor conditions to produce food. At school breakfast or lunch, it was seldom that vegetables were consumed. My challenge was to improve the children's diet, and that's why I decided to implement a school garden. I had previous knowledge about vegetable production from my parents, but when I discovered Esperança Bolivia and their Microenterprise Family Farming Project, I thought about how I could make my dream a reality – teaching children to produce food and eat better."
Esperança Bolivia also hosted nutrition training workshops where the team explained the importance of eating well, eating vegetables, and how to prepare vegetable-based meals. Even though the people of Bolivia produce vegetables, they often don't know how to prepare them. In one class, the community learned how to cook a zucchini pastry with cauliflower and chard cream. "It filled me with joy to see my students taste these meals," Flora shared.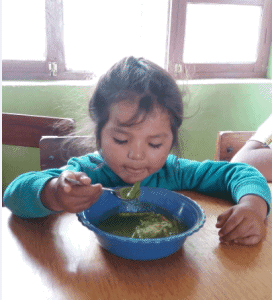 Flora explained that the success of this project does not end with one school garden; it also offers the opportunity of others to learn from this experience. "It's an opportunity to motivate the whole community. Now we have a school greenhouse, which sets a good example for the community and neighboring communities. It brings me joy and happiness for all the parents and students who are eating food they produced on their own."
In Flora's words, "I knocked on the doors of an organization committed to families."
Learn more about Esperança's work in Bolivia