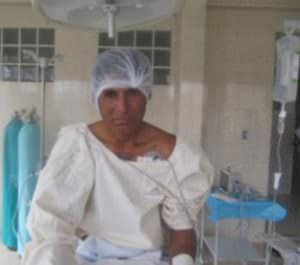 After four years of suffering from pain, Mr. Quintin Vedia Camargo, a 35 year old farmer from a small town south of Sucre, received a life changing surgery.  Mr. Camargo traveled five hours to the city with hopes of receiving treatment. A father of five, Mr. Camargo's main concern was being able to provide for his family, something that he would be unable to do if the condition and symptoms worsened.
Mr. Camargo developed a megacolon as a complication of Chagas disease that caused severe abdominal pain and obstructed intestines. Chagas disease is an illness spread by a bug known as the vinchuca and it is common in Central and South American countries. In Bolivia, approximately 20% of the population is infected and if left untreated, it can cause heart and digestive system disorders.
When Mr. Camargo was diagnosed doctors recommended surgery, but because he could not afford it, he was unable to receive the treatment. During the past four years Mr. Camargo has tried to alleviate the pain with soap and water enemas. The pain, however, only worsened over time.
After hearing about the volunteer surgical team coming from the U.S., Mr Camargo inquired about receiving treatment at the San Pedro Claver de Lajas Tambo hospital in Sucre.  Local doctors prepared him for the procedure three days prior to the teams' arrival. He successfully received the surgical procedure from Esperança's volunteer doctor.
The family thanks the doctors with tears in their eyes, "This was our only option. We didn't have any other. Thank you for helping us. We needed it so much. Thank you for helping us resolve this health issue. You don't know how thankful we are."
Thanks to the Esperança volunteer surgical team, Mr. Camargo can now go home pain and worry free!