Success of Santa Ana-El Diamante
How You Keep the Water Moving in Rural Nicaragua
When you look at the area around Santa Ana-El Diamante, you see winding, dirt roads running through forests, tree dotted hills, and expansive coffee plantations.
Simeon, a farmer who has lived here his entire life, knows it like the back of his hand, but he also knows the truth. Beyond the beauty of his homeland lies desperation.
This time last year, Simeon and the rest of the 565 community members that make up Santa Ana-El
Diamante were competing over a single, dirty water source. Every day there were conflicts around a crowded well turning neighbor against neighbor. However it wasn't just the strife that disturbed Simeon
most; it was the impact that scarce and unclean water had on the future of his community.
While the children from other communities were attending school in the morning, the children in Simeon's village were not. Instead, they were making the nearly mile-long trek to fetch water multiple times per day. Even worse, the water they brought back was unclean and had a good chance of making them sick. All of it combined meant that when we met Simeon, he had almost lost hope for the future of his community.
That is, until you provided him with hope.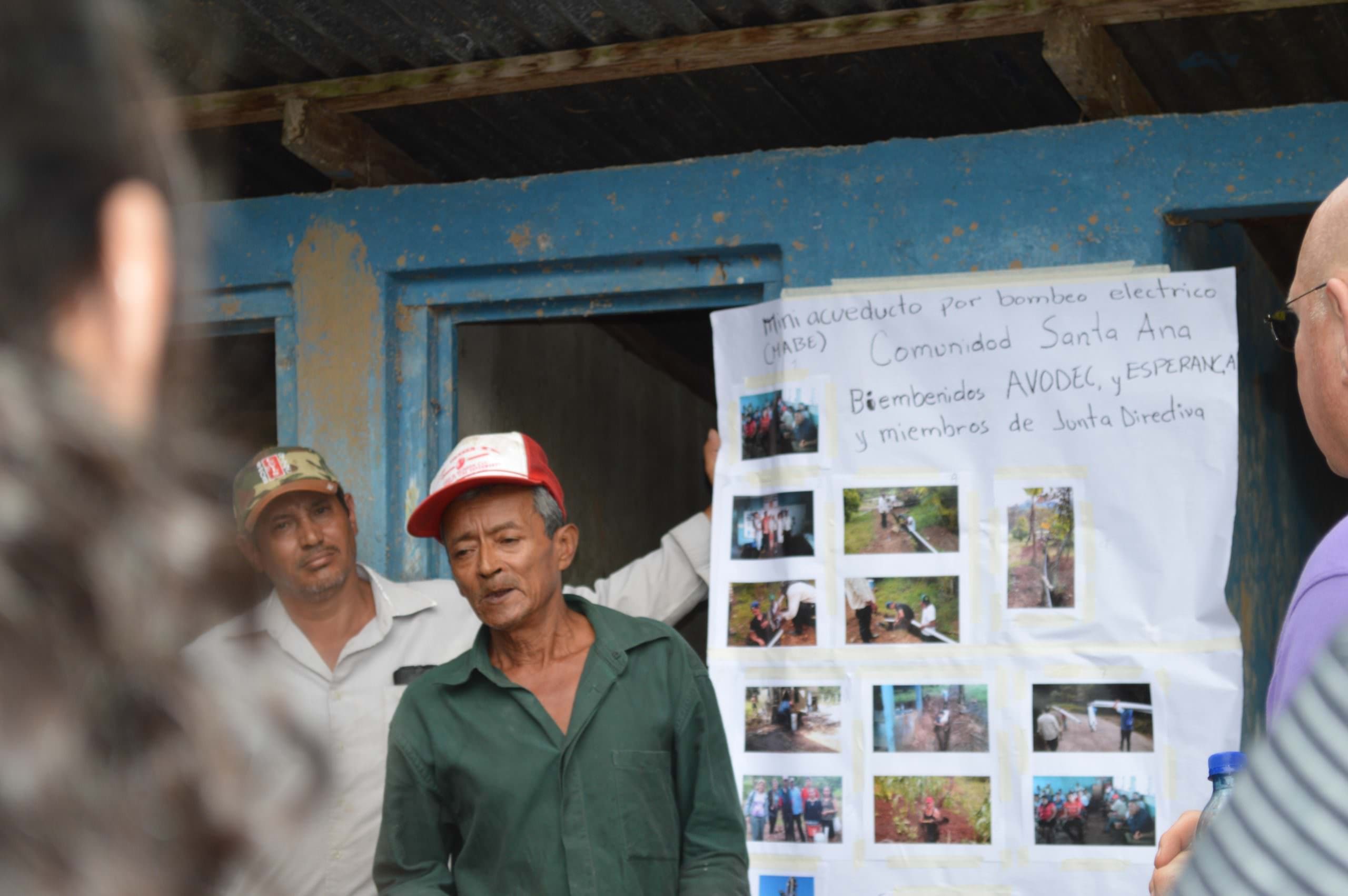 Last year, we shared Simeon's story with you and thankfully, you responded in a huge way! We were able to raise $28,380 – enough to give Simeon and his community, as well as EIGHT other communities in similar situations, the hope they were wishing for!
Aided by Simeon's vast knowledge of the area – where the highest points are located; how they relate to the spring source; if the owner of the land would be willing to install a water storage tank on his property, and if not, where the next best place would be – Esperança and other leaders in the community were able to quickly install a water system capable of providing twenty gallons of clean, safe drinking water directly to each home, every day!
In Esperança's tradition of giving a hand up instead of a hand out – the community members dug the trenches, helped find the natural water sources, identified potential sites and landowners to work with, poured the concrete and installed miles worth of piping up hill and in the jungle.
The community members' participation not only instills a sense of pride and ownership in the project,
but also ensures that knowledge of how to maintain this investment, long after Esperança leaves, stays
embedded in this community for generations.
Today, thanks to your incredible financial support, Simeon is able to experience things he only dreamed about – safe, clean water piped into every home, children free from the risk of water-borne illness and returning to school and life in a community that has a bright future ahead of it.
But our work is far from finished. There are six other communities in the region who need the same kind of hope you helped bring to Simeon's community. With your assistance, we plan to bring safe, clean water to all six! Imagine bringing hope – not just to a community – but to an entire region!
Thank you for your dedicated support that makes audacious dreams like these possible and transforms the lives of hundreds of families!