Maciene, Mozambique is largely run by women.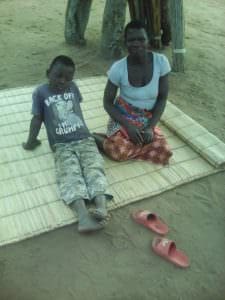 An area scarce in economic resources, men often leave their families to find work in South Africa.  Ten hours to the west of Maciene, the men will send monthly remittances home to support their families. They visit twice per year, on Easter and Christmas. For most women, when not breastfeeding, this is when they get pregnant.
The Wuamusse family is like any other in Maciene. Helena, 29, stays home with 10 year-old Ezequiel, while her husband, Justino, went to work as a laborer in South Africa.
Justino has not sent support money or returned home for eight years.
This, unfortunately, is one of the most typical households in Maciene.  It is up to Helena to make ends meet and support her family any way she can.
The little money they do get from her work on other people's land goes to buy the essentials. Unfortunately, hygiene items like soap do not make the priority list.
In fact, hygiene in general is not the topmost priority for Helena.
So, when the Esperança's Community Health Activists visited her home, it is no surprise that they found a rundown and unsanitary home and latrine. Both Helena and Ezequiel were wearing dirty clothes, besides being quite filthy themselves. Farmers by living, they were not washing hands after work, before or after cooking, or following using the latrine.
As part of Esperança's hygiene and preventive health education services, visits to the Wuamusse family began with assessments on their awareness of basic personal, family, and community hygiene practices. They were asked their thoughts on the origin of diseases such as diarrhea, cholera, and Tinea capitis (a fungal infection of the skin). A relationship of trust and dialog was established to build the family's awareness of the link between hygiene and these diseases.
After several visits, both mother and child were able to demonstrate their understanding of the clear link between lack of hygiene with several diseases.
Esperança's activists began showing the family how to improve their hygiene at home. They swept the patio and cleaned the latrine and
cooking area. They also helped build storage where clean dishes could be kept out of the dirt.
Helena expressed her concern that she did not have money to purchase brooms nor soap to keep up with these practices. So, Esperança's educators reminded her of the community practices used prior to modern techniques: the use of "lihlehlwa" (a native creeping plant) used to wash hair; dry plants that serve as dirt-floor brooms; ashes from the cooking fire that sanitize one's hands as well as dishware.
Esperança's activists are sure to give praise and encouragement to the Wuamusse family for every effort of improving their hygiene situation.
Every day of practice ensures that these disease prevention methods become habit.