Did you know rural women, the majority of whom depend on natural resources and agriculture for their livelihoods, make up over a quarter of the total world population?
In developing countries, rural women represent approximately 43 percent of the agricultural labor force, and produce, process and prepare much of the food available, thereby giving them primary responsibility for food security. According to the UN.
We know firsthand of the hard work rural women are doing around the world.
We had the chance to meet 44 hard-working women in a remote village in Nicaragua. Each of them has a tiny plot of land in their village where they farm to feed their families. They have farming and cultivation skills that have been passed down to them from generation to generation, and they work tirelessly to put into practice all they have learned. Despite their hard work, they were barely hanging on. They only managed to produce extremely meager crops. There would be little or nothing left over to sell at the market, which meant they weren't earning any money. But their lives have been transformed because of their determination and in thanks to generous Esperança donors.
These 44 women have an incredible amount of hope!
Esperança has helped them establish an eco-friendly pig farm in their village. The farm is named "Valle de Esperança" (Valley of Hope) and uses innovative "deep bed" technology which reduces odors and flies. Their innovation and perserverence is remarkable! Special bedding material will quickly absorb and break down fecal matter, eventually turning it into high-value compost to help the farmers produce more and better crops without manufactured fertilizers that introduce chemicals into the soil.
The pig farm is nearly a zero-emissions operation. Do you know of any farms like that in the U.S.A.?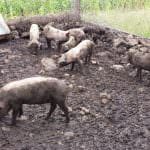 The women are breeding two different species of pigs, both known for their high reproduction rate and high-quality meat. The women will maintain the pigs weight and immunizations which will have the effect of keeping consumers healthy and create a new standard for the region!

Join us in celebrating and congratulating the women in Nicaragua and all around the world who are making a difference in their communities.