The goal of National Dental Hygiene Month is to raise awareness around behaviors that promote a healthy smile and build a foundation of healthy habits to be carried throughout life.
As a health education provider, Esperança is honed in on informing children and families in the Phoenix area how profoundly oral health effects overall health. Oral Health Education has been a part of Esperança's curriculum since the inception of the Domestic Program in 2000, and is still an essential piece of our programming today. Between healthcare providers and school systems, there is often a gap in vital health education left, especially around oral hygiene.
"What I have observed is the lack of knowledge many of our students have on the frequency of tooth brushing, seeing a dentist and how often a toothbrush should be disposed of," shares Xochitl Wilson, Manager, Family Programs. "It leads me to pose the question, do dental care providers take the time to teach kids how often and for how long they should be brushing and flossing?"
Luckily, in 2019 alone, 4119 adults and children have benefited from Esperança's oral health education, covering these topics and more. In addition to this newfound knowledge, participants receive a Smile Bag, filled with a toothbrush, toothpaste, and dental floss.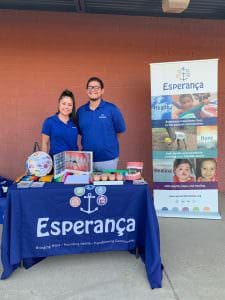 "It's with pleasure that with Esperança I can provide oral health education to so many health disparate children," Wilson added.
The American Dental Association describes the proper brushing technique as such:
Place your toothbrush at a 45-degree angle to the gums.
Gently move the brush back and forth in short (tooth-wide) strokes.
Brush the outer surfaces, the inner surfaces and the chewing surfaces of the teeth.
To clean the inside surfaces of the front teeth, tilt the brush vertically and make several up-and-down strokes.
Brush your tongue to remove bacteria and keep your breath fresh.
[siteorigin_widget class="DN_Widget_Button"][/siteorigin_widget]