By Elizabeth Meyers, MPH MSW, Esperança volunteer translator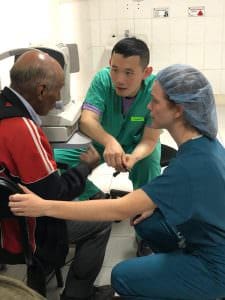 Our group, made of surgeons, doctors, nurses, Certified Scrub Techs, Certified Ophthalmic Techs, public health experts, and translators traveled with 25 suitcases full of medical equipment and medicine, for over 24 hours to meet the Esperança crew in Cusco for our first trip to the Apurimac region. After three flights and one beautiful, long, and quite bumpy ride through the Andes, we arrived in Abancay. Even though it was already nearly 6:00 pm, we went straight to the hospital to set up for our first day of clinic. For many of us, this wasn't our first trip with the J & L Foundation to do cataract surgeries, however it was our first time in Peru.
When we arrived the follow day for our first day of clinic, we were lucky enough to be shown to a clean and orderly facility with great equipment.  We were greeted by doctors and nurses that work in the Regional Hospital Guillermo Diaz De La Vega of Abancay. The doctors here shared with us that Apurimac is one of the most economically poor regions in Peru, but that it is rich is many other things.
As people have been coming into the clinic to be seen, it has been clear to us that Abancay and Peru more generally is full of generous and dedicated individuals. People have traveled from many hours away, many times with the support of Esperança providing transportation and lodging to meet with team and get a better understanding of ailments in their eyes that they have been struggling with for years.
In our first day we were able to complete 32 surgeries and screened 69 people. We are now about halfway through our second day of clinic and have already screened 36 people and completed 21 cataract surgeries and 1 conjunctive flap procedure for a special gentleman who had a burn from getting cement in his eyes. After taking a lunch short break, we are ready to resume and continue the rest of the 36 cases we have scheduled today.
The entire team continues with positive attitudes and a passion for serving this tremendous showing of patients. Ophthalmology is a desperately needed specialty in this region on the country. Stay tuned for more updates from Dr. Pajka and team.