In the Fall of 2017, Esperanca's Domestic Program Director was invited to speak on a panel at the 4th Human Resources for Health Forum in Dublin, presented by the World Health Organization.  Maria shared the story of her journey from poverty to the Director of a world-recognized program through her passion for community health work.  The largest-ever forum focusing on health workers and global health concluded with a series of actions to prevent a projected shortfall of 18 million health workers.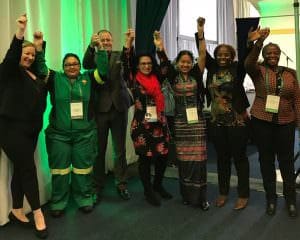 Following a hugely successful forum, Maria was reached out to once more concerning her involvement in the WHO's 2018 Global Conference on Primary Health Care.  This year marks the 40 years anniversary of the Alma-Ata Declaration of 1978. The Alma-Ata Declaration of 1978 emerged as a major milestone of the twentieth century in the field of public health, and it identified primary health care as the key to the attainment of the goal of Health for All.  So in honor of this anniversary, on October 25-26, the world will come together in Kazakhstan to renew a commitment to strengthen a system of sustainable primary health care.
One of the breakout sessions is on Building the PHC workforce of the 21st century.  The objective of the session is to propose strategic and operational priority actions for ensuring a performing primary health care workforce for the 21st century. Health workers set the scene by presenting what they experience, in their role in public healthcare, as the key drivers influencing health systems and the workforce for the future.  Esperanca is profoundly honored and excited that Maria has another opportunity to share her experiences on a public stage.
Check out Maria's panel from 2017 here.
Learn more about the 2018 Global Conference on Primary Health Care.