*re-posted from the ACBL February Bulletin*
By Maritha Pottenger, ACBL
The San Diego bridge community has been extremely generous over the last eight years in supporting the medical missions of Ray Sachs, an orthopedic surgeon. In 2019, we raised a record amount, over $18,000, bringing the eight-year total to between $80,000 and $100,000.
All of that money went toward equipment and supplies to transform the lives of children (and a few adults) in the less developed world.
Ray and his team perform surgeries to fix issues such as club feet, displaced hips, cerebral palsy, and other problems that would handicap the children for life. These are transformational operations for the children in South and Central America. Without the surgery, these children could become targets of discrimination when they grow up affecting their ability to work or marry. With the surgeries, the children can grow up to be healthy, productive, and accepted members of their communities.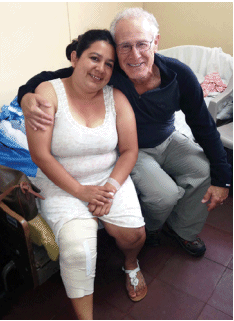 Ray and his team pay their own airfare, food, lodging and other expenses, and donate all their labor. Thus, operations that would cost $30,000 to $40,000 in the United States, can be done in Ecuador (for example) for about $120!
The fundraising is done through an annual Charity Game, with additional donations collected, and a silent auction in which people bid to play with professional bridge players who donate their services to the cause.
There have occasionally been significant contributions. The ACBL Charity Foundation donated $24,000 in 2014 and $5000 in 2017, and the San Diego Unit donated $1000 one year. Several years ago, Mimi Anderson bought a fluoroscopy machine to allow Ray's team to diagnose children and perform advanced fracture surgery in Peru. In 2017, Phyllis Yates donated several of her paintings to the auction. This year, one of our donors gave stock.
Club services were donated by Wirt Gilliam and the Soledad Club. Food and drinks were donated by Ray, Ruth Ung, Maritha Pottenger, Judy Rimer, and Helen Mischaud. The pros who donated one or more sessions were: Paul Darin, Roger Doughman, Lynne Feldman, Jason Feldman, Wirt Gilliam, Kent Hartman, JJ Johnsen and Maritha Pottenger.
Marc Austerlitz, another San Diego surgeon, joined Ray's team a couple of years ago. They now intend to expand their focus to fix vision and hearing problems in children, as well as orthopedic ones. The broader objective is always to transform each child's life for the better.
Ray's medical missions are sponsored by Esperança, an established charity. More information is available online, and donations can be made at esperanca.org. If, however, you want your donation to go specifically to Ray's Medical Missions, please attach a note to that effect.
Our gratitude and thanks to all our donors, players, volunteers, pros, and everyone who helped to make this event a success – who are truly saving the lives of the children Ray and his team serve.