According to the World Food Programme, 80% of the population of Mozambique cannot afford an adequate diet, causing 42.3% of children under five to be stunted in growth.  In fact, the country ranked 102 of 118 in the most recent Global Hunger Index.  This year has been especially difficult for those living in more rural areas of the country.
"Poor performance of the rainy season … in the central and northern parts of the country resulted in major agricultural losses, destruction of infrastructure, assets and livelihoods, internal displacement and other damages.  As of August 2019, 2.5 million people were in need of assistance." -World Food Programme
Esperança has been working in Mozambique since 2003 in partnership with NGUNI, a local NGO that shares our same mission to improve the health of local families in a sustainable way.  Today, we are sharing how these recent weather incidents have affected Esperança's agriculture programming in Maciene, Mozambique, as told by the founder and Executive Director of NGUNI, Eduarda Cipriano.
Agriculture season in Mozambique starts mid-October every year, when the first rains fall. Depending on the intensity, subsistence farmers, i.e., families like the ones Esperança serves in Maciene, seek signs that will tell them if we are going to have a good year.
When the first rains fell October of 2019, everyone rejoiced. It was a good quantity of rain and those who did not prepare their land in haste put their hands to the task, because it is known that if the first rains are good, they will continue up to mid-November. There are only scattered showers in December, just enough to help crops sprout.  Then, January and early February will have heavy rains to give the last push to fruitful crops of maize, peanuts and black-eyed peas. Greens, mostly pumpkin leaves, would flourish in January and February just in time to have the essential nutritional side dish.
In November, the little tractor Esperança bought to help vulnerable families increase the amount of land worked, cleaned and plowed close to 13 acres (7 families served). We had an auspicious beginning of the agricultural year, then scorching heat in December and January that destroyed all efforts of the following families: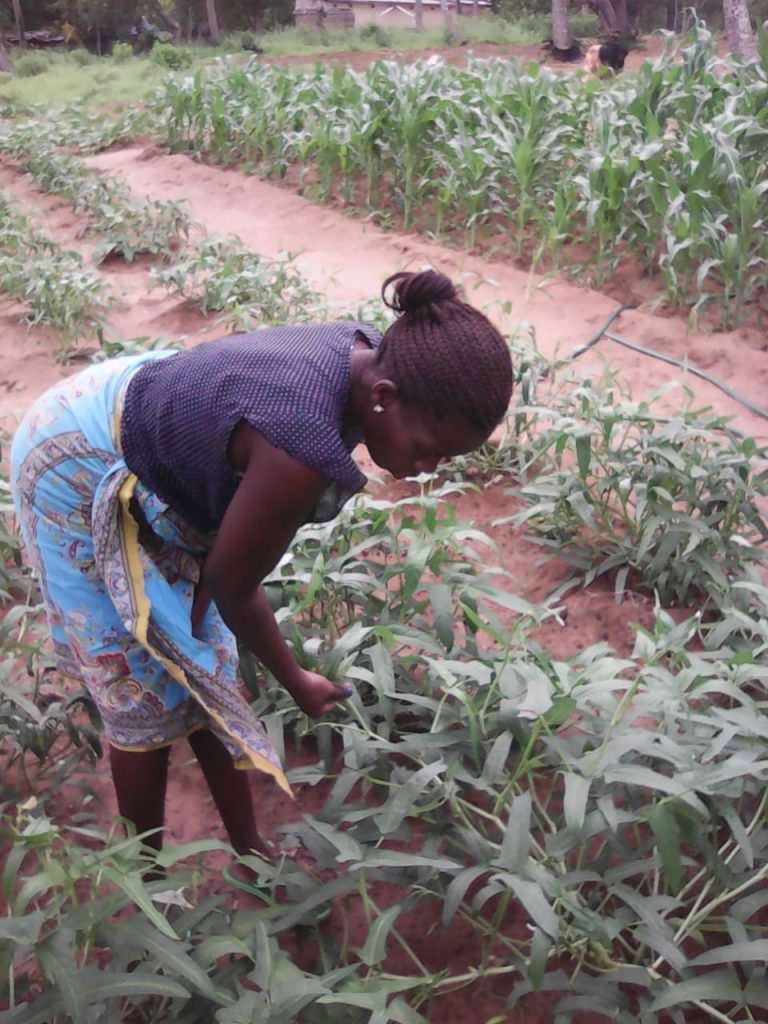 Flora Agostinho, 57, a single mother of 4 and grandmother to 3 children who are under her care, with a total area of ​​5 acres
Antonieta Elias, 42, a single mother of 8 and an Esperança health activist, was one of the producers with an area corresponding to 1.2 acres
Marcelina Gabriel, in her late thirties, wife and mother of 4, offered 1.2 acres of her land to become a results demonstration field
Isabel José 28, wife and mother of 3, producer with a total area of ​​4 acres
Dionisia de Fátima 37, wife and mother of 5, a producer with an area of ​​4 acres
Albertina Bartolomeu and Melita Muianga with areas of 6 and 9 acres respectively
Amidst this disheartening loss of promising crops, NGUNI and Esperança were able to produce in the wetland demonstration fields (close do 1.5 acres of land) 450 pounds of maize, pumpkin leaves and black-eyed peas. This yield was distributed to 17 of the most vulnerable households, those who do not have any source of income so to be able to purchase food to replace what was lost.
To support Esperança's efforts in combating food insecurity during these trying times in Mozambique, you can donate below. Read the full World Food Programme assessment here.