Damaris Zenteno is like most 17 year-olds. She lives in the Japón neighborhood in the city of Tarija, Bolivia, with her mother and three sisters. Her father died when she was young, so her mother became the sole provider for the family, working hard to ensure the girls received an education.  This year, Damaris was on track to graduate high school. She had plans to attend college and pursue a degree in psychology. That is, until she found out that she was one month pregnant.
"A month ago I found out I was pregnant. My younger sister who's 16 went with me to take the pregnancy test. My mother was very angry and disappointed that I wouldn't be able to continue my education."
Damaris doesn't live with the baby's father, however, he is financially supporting Damaris throughout her pregnancy. In Bolivia, the pregnancy rate in adolescent women (between ages 10 and 19) like Damaris is 116 for every 1,000 women. In this age group the infant maternal mortality rate is 206 per 100,000 live births. This high rate of pregnancy in adolescents is attributed to the lack of information and poor quality of health care services.  Although there is a sufficient amount of health centers that provide medical care, the time allocated to these patients is insufficient, so often times they leave feeling uninformed.  Damaris was never provided sexual health information by her local health center.
Fortunately for Damaris, Esperança Bolivia implements the project, 'Effective Mechanisms of Child Protection Based in the Community'. One of the courses provided is called 'Growing with You'. The training includes topics on prenatal care, healthy eating in pregnant women, signs of dangers in pregnant women, and changes in the feelings of pregnant woman. This content provides useful skills and knowledge to help women reduce the high rate of maternal and infant mortality.
Damaris is one of the participants in our most recent cycle of workshops. She says that participating in these courses is helping her strengthen and overcome the first stage of pregnancy; where the main problems are her mother's rejection, her family interaction, and social environments in which she feels judged. She also says that it's helping her cope with pregnancy responsibilities by taking care of herself and the baby.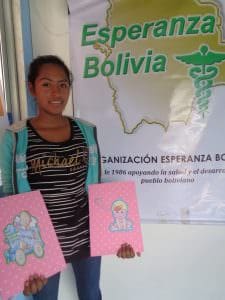 "These workshops have taught me a lot.  I especially liked learning that the baby can hear everything. It is in my hands for my son to grow in my womb, healthy and loved. I will eat healthy so that my child is born healthy and intelligent. I feel the strength to overcome all the obstacles. I wish all women like me could attend these workshops to continue their pregnancy as I am. Thank you for opening my eyes with all this knowledge".
Damaris now has hope for the healthy future of both herself and her unborn son thanks to the intervention of Esperança's prenatal care.
READ MORE about Esperança's work in Bolivia.
DONATE today.