With all the hopelessness in the world, it's easy to wonder "What can one person really do?" New friend of Esperança, Joe Kemper, will tell you – quite a lot! Last year he joined us on a site visit to see the life-changing hope Esperanca provides first-hand. The experience was so moving he decided to generously support five different communities.
Esperança helped small scale farmers in Zapote Oriental, Nicaragua form a farming cooperative several years back, but the co-op couldn't find the funding for a proper storage facility for their seeds and crops. With Mr. Kemper's help, 8 silos have been distributed to farmers who have used them to collect 7,000 pounds of beans! The Valle Esperança Women's Co-op Hog Farm was built in Nicaragua in 2016, thanks to our faithful donors. This co-op empowers women in the community to raise hogs and use the profits to support their families. Starting with a few hogs, the coop became so successful that more stalls and feeding troughs were needed! Mr. Kemper again gave a generous gift and soon the farm will be able to house an additional 80 pigs, as well as provide a space for preparing and storing their feed.
San Isidro is a small, rural community in Nicaragua consisting of 47 families. Unfortunately, the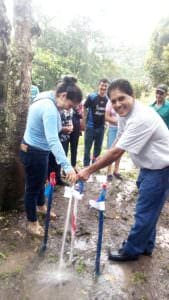 community has struggled with access to potable water since its inception. A few years ago, Esperança helped remedy the situation, but only temporarily. The gravity-fed water system didn't produce enough pressure to deliver water to the families that lived uphill. Therefore, half of the families were still struggling to receive water on a regular basis! Thankfully, Joe Kemper stepped up yet again and provided the funds to help establish reliable water access for the 23 families that lacked it. The water system was completed earlier this summer and is powered by solar panels that will pump water to all homes equally. The water systems Mr. Kemper funded in the communities of Las Rinconadas and La Perlita will be finished later this fall, and will serve 92 and 107 families, respectively. In total, 222 families will have access to clean water, thanks to his generosity.
On behalf of all of us at Esperança, we want to give Mr. Kemper a huge thank you for all he has done to help us bring hope to the men, women, and children we serve!