Luz Marina Vargas, 25, lives in Abancay, a Peruvian city deep in the Eternal Springtime Valley. Luz shares a humble home and happy life with her newlywed husband, Alberto.
She finds joy in baking all types of desserts, snacks, and cakes to give to her friends and neighbors. Luz is known around the entire community for these delicious dishes and dreams of having her own bakery one day, selling pastries at weddings, quinceañeras, birthdays, and other celebrations.
Luz and her husband began excitedly developing their business plan when she suddenly fell ill…
Despite her symptoms, Luz continued working until the bleeding and pain did not allow her to continue. After much begging and pleading, Luz's husband finally persuaded her to go to the hospital to seek medical advice, where she was diagnosed with a uterine myoma. The doctors told her that her problem was serious, and she needed surgery as soon as possible. They explained that the surgery at their facility was risky without a specialist, and could possibly have long-term complications for her uterus, possibly leading to her unable to carry children.
Luz was heartbroken.
Her future plans included opening a bakery, yes. But Luz had always dreamed of becoming a mother and sharing with her children what hard work and determination could accomplish. In a moment, that vision dissipated.
For that reason, Luz decided against the surgery. Her pain was worth the possibility of raising a family. The doctors prescribed her iron pills and analgesics, and she left without knowing that in just a few weeks her life would change forever.
"A few weeks later, I heard an advertisement on the radio that said medical specialists were arriving from the United States."
Esperança Board member, Dr. Feuerstein out of Delaware, was leading his second gynecological and general mission to her local hospital that month.
"I went in for a visit, passed the consultation and the doctors assured me the surgery and treatment would go well."
Luz trusted the encouragement of Dr. Feuerstein, and decided to move forward with the surgery. Following a complex procedure and two blood transfusions, Luz's pain vanished.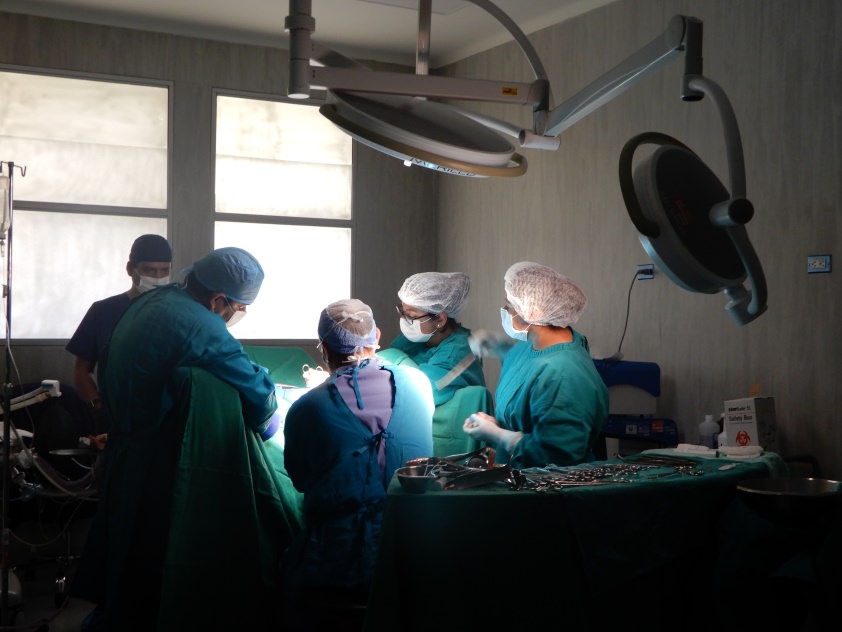 When she woke, there was only one thing on her mind…were children still in her future?
Dr. Feuerstein confirmed that the surgery went exactly as planned and Luz was ready to be a mom any time she wanted (after some recovery).
"I will always be grateful of the people who helped me and the doctors who operated me. Thanks to them, I will now be able to have children, which has always been part of my plan. I continue with my cake business even though right now it is in a bit of a standstill due to the pandemic. For now, I sell some pastries and breads to make a living. This is my only source of income. Once again, I'm thankful to Esperança for all the support that they have given me. For the next mission, I will share this with people who might need some type of procedure, so that they too can benefit from the medical mission that Esperança brings. Thank you."
Luz was one of 49 patients Dr. Feuerstein and team operated on that week, all with similar stories, and hopes and dreams still possible due to the generous donors of Esperança.