The community of Aguas Rojas is in the foothills of Cerro Kilambe, a beautiful, lush jungle reserve, 70 miles from the nearest city of Jinotega, Nicaragua. Esperança began work with local Nicaraguan partner, AVODEC, in 2019 to bring fresh, clean water to this community of 130 low-income families.
One of the beneficiary families of this project was Erlinda del Carmen Duarte Mendoza, and her three children.
Erlinda is a humble woman and homemaker. She has lived in the community of Aguas Roja all her life, raising her children in the same small house she shared with her parents as a child. At just 35, Erlinda has not had any income since her husband died in a traffic accident.
Erlinda's son works on a farm planting basic grains like corn and beans to support the family of four. Her daughter stopped attending school to help with household chores and care for her younger sister.  But even with their determination and work ethic, lack of water was a constant challenge.
Collecting water was a daily chore that took many hours.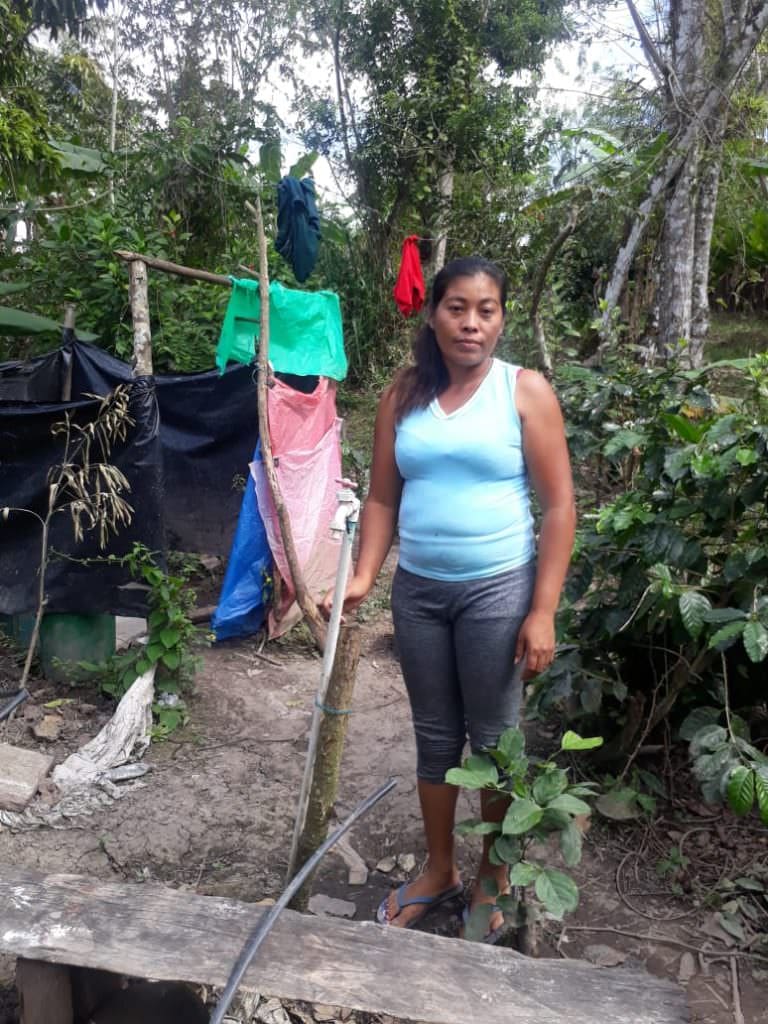 The closest water source is a well roughly half a mile from the family's home, so every day Erlinda would fill her plastic jugs with as much as she could carry. Unfortunately, she did not have help in her task because her girls are small, and her son works at the outskirts of the community. She had been carrying those jugs back and forth, once a day, her whole adult life – that's almost 7,000 miles spent just collecting water!
After years of this struggle, when Erlinda heard of the potential of a water project in Aguas Riojas, she became involved immediately.
"I attended a community meeting to discuss the water problem in which there was a representative from AVODEC explaining the process that would have to be carried out for the project. I thought it was a very good opportunity to have water in our house and not suffer anymore."
Erlinda and her son participated in the execution of the project by helping transport pipes and other construction materials. After roughly a year of work and dedication, Erlinda's dream was fulfilled. She had fresh, running water to her home.
In 2020, a mini gravity aqueduct was completed to serve the 130 families of Aguas Riojas.
"I am happy because now I see how the community has improved our lives with this water project that we needed so much, and like me, the whole community is very grateful.

Today for me this project is a great blessing. This community is very grateful: the dream of having potable water in our homes was fulfilled. In addition to having these services, this community is left with a Drinking Water and Sanitation Committee (CAPS) trained to provide sustainability to this project. AVODEC provides opportunities to those who need them."