Submitted by: Tiffany Luu, Development Manager
December 5th marks International Volunteer Day, an observance by the United Nations since 1985. This year's theme is Together We Can Through Volunteering and boy, has that been true for 2020!
The COVID-19 pandemic has thrown a curve ball in our lives, impacting how we volunteer. Many of us volunteer with an organization that is near and dear to our heart. Today, that might look a little different.
But I'm sure you have continued to aid those in need during this time –  supporting small businesses, paying for the lunch of a frontline worker (doctors, nurses, first responders to sanitation cleaners, teachers, grocery store clerks), or checking in/running to the store for your high-risk loved ones or neighbors.
See – volunteering comes in all forms, shapes, and sizes!
Now I'd like to share a few events that rallied together members of the Advance community… initiatives that many of you have supported!
Funding for food and cleaning supplies for seniors living in HUD housing facilities and families in Arizona, and meal boxes internationally.
SPEAR Education hosted a school supply drive to support over 100 Title I students to ensure safe learning in their classrooms.
Organizations like VEREIT Real Estate Operating Company partnered with Clean the World to host hygiene bag drives for our communities locally and abroad.
Our community is constantly donating medical supplies, such as protective gear for healthcare workers and diabetes supplies, ostomy bags and walkers/wheelchairs for local HUD housing facilities.
Nick Alcock & Associates and the Starfish Grace foundation rallied around our Nicaraguan partner, providing funding for areas recently devastated by two back-to-back hurricanes. Watch video.
BHHS Legacy Foundation, Delta Dental of Arizona and countless individuals generously supported Advance's Christmas Angels program with presents and grocery gift cards.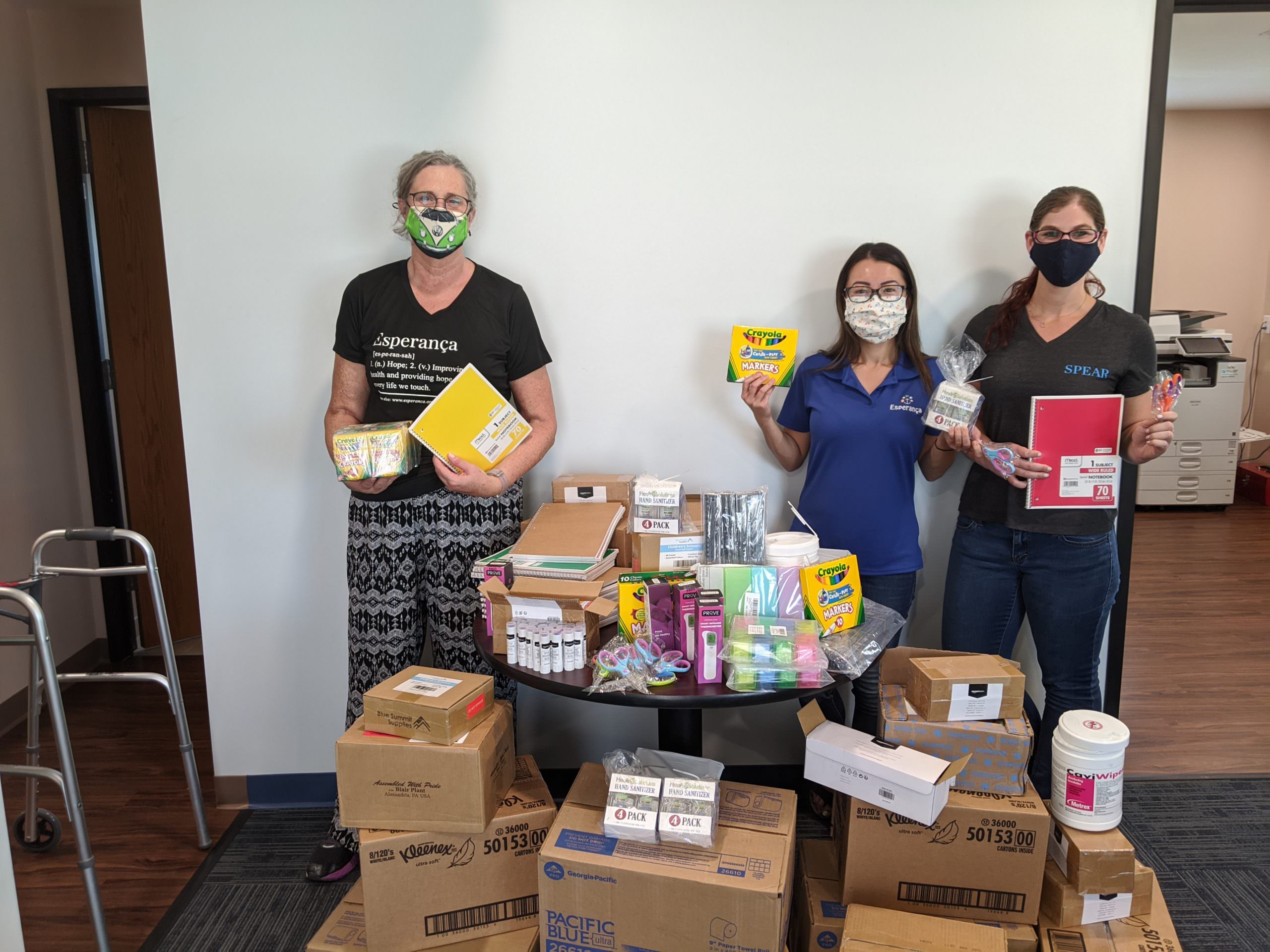 Together We Can Through Volunteering – so how can you?
Donate blood. If you are healthy and able to do so, check Red Cross to find a donation site near you.
The American Red Cross has a severe blood shortage. A message from our U.S Surgeon General, "You can still go out and give blood. We're worried about potential blood shortages in the future. Social distancing does not have to mean social disengagement."

Donate Convalescent Plasma

Are you a recovered COVID-19 patient? You can donate the plasma in your blood if it contains COVID-19 antibodies that can attack the virus. You may qualify to donate plasma for COVID patients if you meet eligible requirements. For more information, click here.

Millions of Americans are out of work, and as the number of COVID cases increase, there's no doubt that job losses are on the rise as well. With the unknown time frame of this pandemic, our communities are suffering and wondering how they can afford their next meal. Volunteer or donate at a local food bank!

Express gratitude to a frontline worker

With the Holidays around the corner, help brighten up a frontline worker's day! Be kind and say, 'thank you', pay for a drink or lunch, deliver some treats, or make some thank you cards.
Advance needs help too! Have free time to volunteer your talents? Our nonprofit could use help with:
Research
Writing and editing
Email marketing and social media management
Graphic design
Donor thank you calls and letters
Data entry
Translating
Book-keeping
Legal advice
Medical supply sorting
Surgical mission staff
Please email me at valeria@advancecommunity.org to offer support in any of these areas.
And last but not least… DONATIONS. Like all nonprofits, your donations allow us to keep the lights on, not to mention serve THOUSANDS of families around the world through all the Advance programs you know and love.
No matter how, or with who…. I encourage you to take action – serve and be a part of your community, safely!