Hand in hand with you, Doña Rosa and her son Juan have started down a path from relief to self-reliance.
Juan is the sixth child of his widowed mother Doña Rosa. Doña Rosa is one of the 576 beneficiaries receiving assistance from Esperança's Sustainable Food Security Program because of your friendship.
Doña Rosa has been the sole provider for her 11 children for most of their lives, she cares for two of her grandchildren and one daughter who is incapacitated. Together they live in the community of Tolomosita Oeste, near Tarija, in Southern Bolivia. In this region, where elevation is just above 6,000 feet, the land is capable of producing many different vegetables, but many farmers don't know how. This is where you come in, keep reading…
Juan is one of the many men and women every year who leave everything behind in search of better paying work in Argentina.
Before leaving home, "We grew vegetables for our own consumption. We tried selling the little we had left over, but people would not buy them because they looked for vegetables that were newer varieties and of better quality," Juan shared.
Juan said goodbye to his family, his home, and left w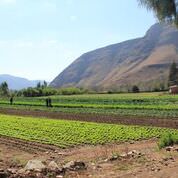 ith his wife and two young daughters to find work in Argentina's growing agricultural industry, a distance of over seven hours away from his home.
Ask yourself: "What can you do with so little?" And the only answer is: "Try and make miracles!"
Although Juan's farming skills aided his difficult transition, they could not spare him and so many vulnerable people from the nostalgia and pain that comes with emigrating to find work.
Every year, Juan returns home with his family to visit his mother and siblings and help with the harvest. Juan shared with me that this year was very different… He is thinking of returning to live permanently with his family. This year's harvest reaped crops and vegetables like they never have before!
Juan explained, "Now I see what Esperança is providing my mother: high quality seeds and technical assistance during the planting, growing and harvesting seasons. With this help, she is producing much more and better quality vegetables just like in Argentina. Now I am thinking of moving back to my country. This project gives the average farmer a much better quality of life. It is very sad to have to live and work in another country. I always felt far away and miss my land and my family."
And to learn that her son is thinking of moving back home, Doña Rosa couldn't be happier!
Doña Rosa's family is growing high yields of lettuce, onion, potatoes, broccoli and celery, to name a few!  Esperança's Food Security Program also educates family farmers at even higher elevations to grow the ancient grain of quinoa, which is high in protein and vital nutrients—something exceptional where fewer crops can be grown.  This bright story is what Esperanza Bolivia's staff see every day: The Fruits of their Labor realized in families like Doña Rosa's.
This program has not only cultivated nutritious, healthy crops, but a budding community pillared by the four team members who run Esperanza Bolivia's Sustainable Food Security Program. By providing technical knowledge of farming practices, high-quality seeds and agricultural supplies, they see how families are not only increasing their income from sel
ling the abundance of crops that they are growing, but also seeing each member of the family become more vitalized and empowered.
Your generosity has fed the bodies, minds and spirits of men, women and children who depend on agriculture to support themselves. You have provided a safe, nurturing community, quality agricultural tools and training, and perhaps the most surprisingly important piece: high-quality/resilient seeds.
The need for Sustainable Food Security is especially acute for the overwhelming majority of those who live in rural areas, I need your help to widen our horizons and reach the most remote corners of our world. CLICK HERE to make a donation that will help keep all families together by bringing diverse crops to every family in Southern Bolivia.