Jennifer is a mom who refused to give up.
She thought giving birth to her new son would be routine, just like it was for her other kids. All her doctor's visits had gone to plan …
Instead, baby Juanito was born with clubfoot. Jennifer hadn't heard of this common birth defect, but she knew what it meant in Ecuador: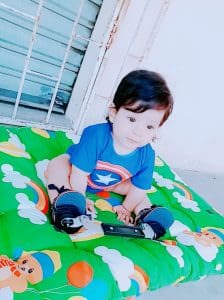 Her beautiful boy's future was dim.
He'd likely never walk normally … Never be accepted at school … Never find a job … Never marry. Children like Juanito are never fully accepted by society, unable to reach their full potential.
Jennifer couldn't afford the $1,500 surgery from a private clinic with specialists, so she took her son to several public hospitals hoping to find a low-cost alternative. One doctor put Juanito's tiny leg in a full cast.
That day brought both baby and mama to tears.
Yet weeks later, nothing improved. Jennifer was losing hope that Juanito would ever kick a soccer ball with his daddy. Or run, jump, and play with his brother. But she had to try — one more time — for her baby boy.
That's when she learned that YOU don't give up either. Generous folks like you helped send a U.S. surgical team to a hospital in Guayaquil, just a few hours away from Jennifer's home!
Sadly, about 1 in every 10 children worldwide live with a disability. This fact alone makes them less likely to attend school and become literate. And it makes them more likely to experience discrimination, neglect, and abuse.
What makes a case like Juanito's even more heartbreaking is that disabilities like clubfoot, bowed legs, and dislocated hips don't have to be permanent. If treated early enough, these children can live full lives!
Kids like Juanito depend on Advance's volunteer surgical teams to rewrite their futures.
Because the need is so urgent, one of the talented pediatric surgeons who volunteers in Ecuador has agreed to match your gift today up to $3,000.
So your kind gift of $250 — enough for the Advance team to end the suffering of one child — will give TWO children life-changing surgeries! But you must claim your match by December 31.
This Christmas Eve, Juanito won't just be listening to his family and neighbors sing traditional carols. Thanks to your committed support, he'll be singing — and DANCING — right by their side!
You can give another child like Juanito (or several!) the healthy future they deserve with a tax-deductible gift to Advance today! Make your match donation here.