Join us on Saturday, October 21st, 2023 at Road Runner Harley-Davidson, Goodyear for the Chicano Pride Ride, AZ, 3rd Annual Event.
Don't miss out on the "Chicano Pride Ride Arizona, 3rd Annual," a thrilling motorcycle ride celebrating the rich cultural heritage and resilience of the Chicano community and supporting Advance!
Highlights of the Chicano Pride Ride include:
Vendors: Explore an array of vendors offering unique merchandise.
Dance Performances: Experience the energy and rhythm of traditional and contemporary Chicano dance performances.
Live DJ and Band: Groove to the infectious beats provided by our live DJ, a live band will take the stage, providing a memorable performance that will have everyone on their feet.
Great Food: Each registered rider will enjoy a meal with their registration, but other guests will have a variety of food vendors to choose from.
Fundraising: Guests will have the opportunity to learn more about Advance and how to support their mission of optimal health equity around the globe.
The Chicano Pride Ride is not just an event; it is an opportunity for the community to come together to have fun and support the mission of Advance. There will be fun for the whole family all day long,
---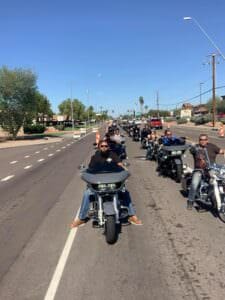 ---
For more information about registrations or to find out how to get involved please contact Sandra Searle, sandra@advancecommunity.org

---
---