Submitted by: Alejandra Ruiz, MPH, Youth Program Manager
Greetings From Advance's Youth Program Manager
My name is Alejandra Ruiz and I am excited to join the Advance team leading our youth-focused health programs, I Choose Wellness and Learning with a Smile.
I am passionate about creating relationships to bring forth learning and dialogue to create impact and social justice in our communities. A big part of my career and journey have afforded spaces to be in direct service with communities, specifically being in direct service to youth.
Through my own experience as a youth and working with youth, I have learned a lot about the different barriers and challenges they may face when navigating this world. I have also completed an Integral Coach Certification that equipped me with the skills and knowledge to work with individuals in a way that is more compassionate and understanding of the whole human experience. My personal and professional experiences have highlighted a spark within me that feels responsible to work with youth as they navigate different systems of the world that sometimes can be unjust.
I learned about Advance through my relationship with our CEO, Jeri Royce. Jeri and I worked together when I was her match coordinator with New Pathways for Youth. I knew I wanted to work with Advance because there was a sense of shared responsibility to create impact in our communities through love and education. And, I am honored to be included in Advance to build on the youth program in partnership with our talented team of community health educators.
An Inclusive Future for Child Health in Arizona
One of Advance's youth-serving programs is I Choose Wellness (ICW), formerly known as Su Salud con Sabor Latino para los Niños (your health with a Latin flavor). The name evolved in an effort to help all children feel included in the after-school club. While the students in the program are predominantly Latinx children, the name prevents any child to question if they can or cannot participate.
ICW is an 8-week after-school club for youth between the ages 9-13 years old. The program aims to support youth in gaining skills and knowledge to work towards wellness. Working towards wellness is about being healthy in our heart, body, and mind. There is an emphasis on physical health that focuses on nutrition and exercise, and lessons also interconnect with social, mental, and emotional health.
Some of our topics include:
Water consumption
Getting enough sleep
Identifying feelings using a mood meter
Sugar, salt & fat content in some of our favorite foods
Different kinds of physical activity
ICW utilizes different learning strategies, including movement and reflection. Youth have spaces to learn through sensory learning and practicing, while also reflecting on their experience and voicing their thoughts and ideas. This curriculum is created to see youth as whole human beings. It's meant to honor their experiences and learn about different tools to prevent chronic diseases in adulthood by allowing them to connect to their own agency to make their healthy choices towards optimal health.
We utilize partnerships with schools, community centers, and other locations central to our communities to ensure the easiest access to receiving education and have a great schedule lined up to launch this new curriculum. Our team is so excited about the possibilities this program holds!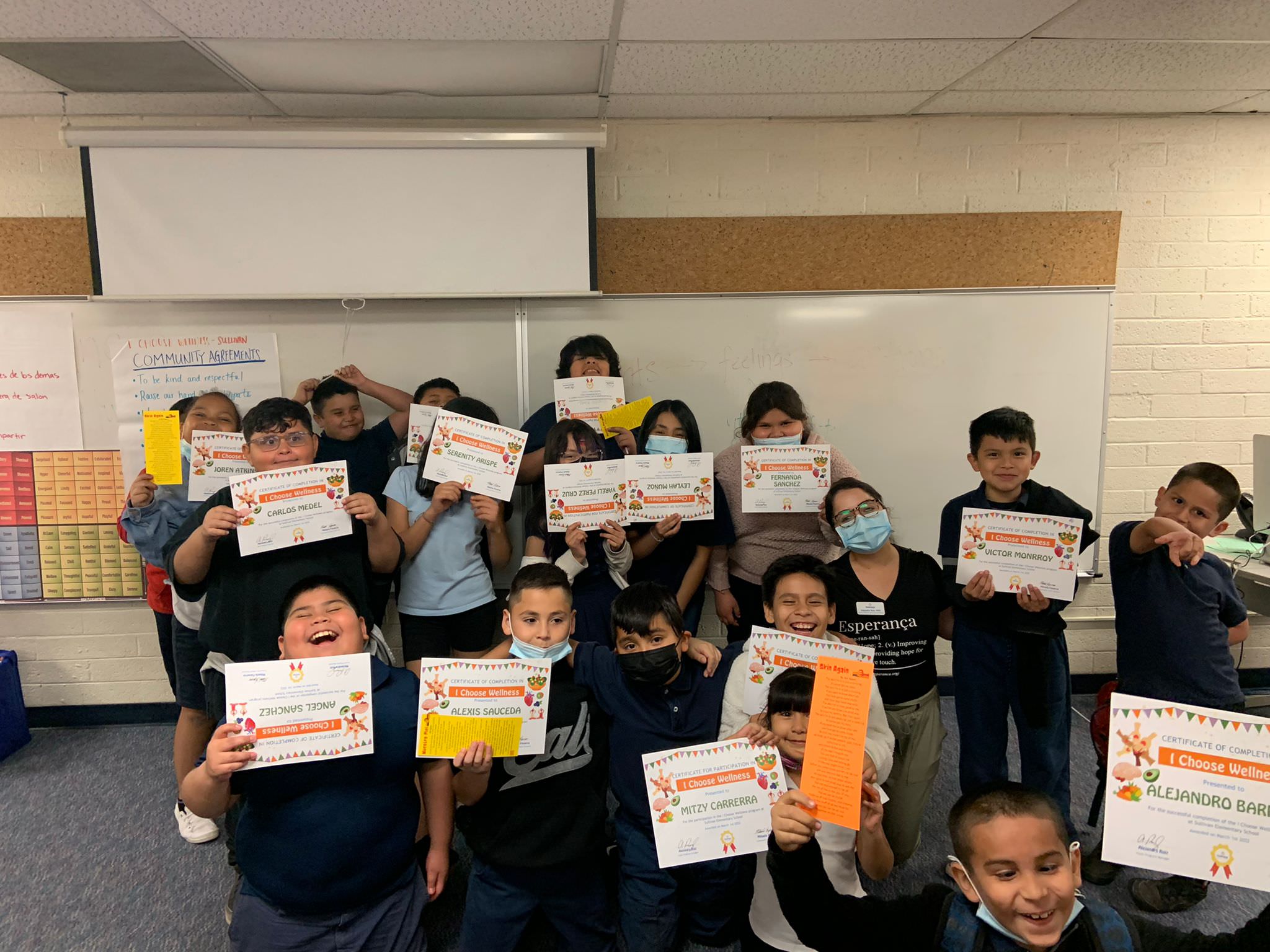 Congratulations to the first graduating class of I Choose Wellness in 2022!