Sandra entered the hospital to deliver her second child full of hope. She had been eagerly awaiting the expansion of her beautiful family.
She never could have anticipated the bittersweet feeling she left with that day…
Sandra was diagnosed with gestational diabetes, a form of high blood sugar that affects pregnant women. She tried to not let it interfere with raising her children, but her heart sunk further a few months later when her doctor told her it had progressed to type 2 diabetes, a transition that occurs in 50% of pregnant women.
Over the past 11 years, Sandra sunk into her diagnosis. She gained weight, was prescribed medication after medication, became anemic, and saw her A1C (blood sugar) levels skyrocket. She finally hit her lowest when she began losing teeth.
Sandra wasn't sure how she was going to combat all these ailments and live her life; much less be the mom that she wanted to be. She felt exhausted. Defeated.
Then, Sandra heard about Advance at her children's school.
She signed up for our Diabetes Education Empowerment Program, an 8-week class for adults with pre-diabetes or diabetes. We cover topics like healthy eating, exercise, monitoring blood sugar, and more. Sandra has found a community of both support and inspiration.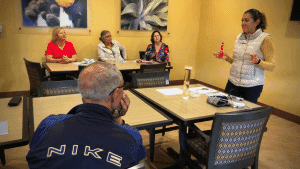 Over the course of her classes, Sandra learned that watching her portions, balancing her diet, and choosing the right amount of carbs will keep her sugar levels in check and get her iron levels up. She also adopted an exercise routine – walking the 40-minute loop around her neighborhood 5 days a week.
A year and a half after enrolling in the program, Sandra is unrecognizable in body and mind.
She lost 60 pounds. She's down to one medication. Her energy has returned. Her blood sugar level has decreased by half.
"This program has helped me understand that I can have control of my health."
This wasn't an overnight transformation. It took time, understanding, and an immense drive from Sandra to live a long, healthy life for her kids.
Supporters of Advance told Sandra and others like her that their fight isn't over, and their victories are worth investing in. You can sponsor our next diabetes warrior's first class with a $125 donation today.